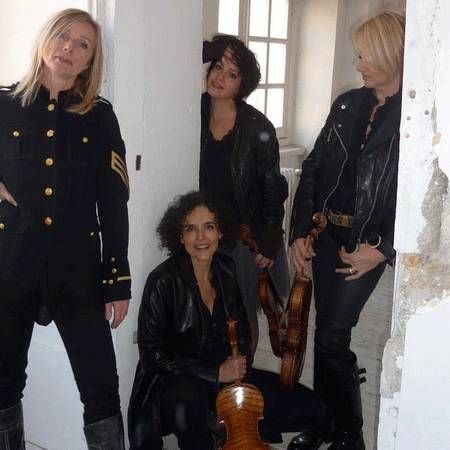 String Quartet Lyon
4 elegant, glamorous females - musically trained to the highest level
Perform classical, jazz, movie soundtracks, tango, classical crossover
Stunning musicians will add style and elegance to any event
Popular at weddings- provide classical music for ceremony & reception
Based in Lyon & available to perform at events across France
String Quartet Lyon PHOTOS
The sophisticated entertainment choice for a variety of events!
This glamorous string quartet are the ideal classical, dramatic entertainment option for a range of events from wedding ceremonies, product launches, exhibitions, corporate functions and garden parties.
This talented and highly trained string quartet perform traditional classical music, as well as a whole range of musical genres including jazz, pop, movie theme tunes, tango and contemporary classical crossover.
This all-female line-up have been booked to perform for high profile clients, multinational corporations and at prestigious events throughout France.
ABBA Dancing queen
Cher Shoop shoop song
Coldplay Viva la vida
Beatles Eleanor Rigby
Beatles All you need is love
Leonard Cohen Halleluia
Franck Sinatra Strangers in the night
H. Betti C'est si bon
Edith Piaf Hymne à l'amour
Michel Polnareff Goodbye Marylou
Tango:
Albeniz   Tango op. 165 No 2
Leslie SearleEvening shadows
G. A. Speckert   Monster Tango
G. A. Speckert   Pizz-a-tango
G. A. Speckert Roses and thornes
H. Hupfeld As time goes by
L. Bernstein I feel pretty (West Side Story)
L. Bernstein Somewhere (West Side Story)
G. Gershwin Somebody loves me
G. Gershwin I've got rythm
Leslie Searle Meet Mr Joplin
C. Porter I've got you under my skin
Schwandt Dream a little dream of me
L. Jordan Is you is or is you ain't ma baby (from « Five guys named Moe »)
H. Cannon Bill Bailey won't you please come home ?
Variety:
R. Sakamoto Merry Christmas Mr. Lawrence (film "Furyo")
J. Horner One last wish (film "Casper")
H. Mancini Moon river (film "Diamants sur canapé")
M. Shaiman Follow him (film "Sister Act")
A. Lloyd Webber With one look (comédie musicale "Sunset Boulevard")
A. Menken A whole new world ( dessin animé "Aladdin")
R. Sherman Chim chim cher-ee (dessin animé "Mary Poppins")
Des'ree / T. Atack Kissing you (« Romeo + Juliette »)
Mozart Air de la Reine de la Nuit
Pachelbel Canon
Bach Sheep may safely graze
Chostakovitch Valse No 2
Boccherini Menuet
Chopin Prélude
Vivaldi Gloria
Vivaldi Adagio – Presto Eté (4 saisons)
Vivaldi Allegro Automne (4 saisons)
Vivaldi 2e Mouvement du double concerto pour mandoline
Vivaldi Extrait de la sonate en Sol Majeur
Turner Rhapsody
Schubert Walzer und Galopp
Mendelssohn-Bartholdy 3 Kinderstücke
Tchaïkowsky Extraits de "Kinderalbum"
Haëndel Sarabande
Kreisler Chagrin d'amour
Kreisler Plaisir d'amour
Franck Panis Angelicus
Schumann Rêverie
Film Soundtracks:
Scorpions Still loving you
James Brown I feel good
Roger Glover Love is all
Beatles Help !
Beatles Good night
Franck Sinatra My way
Elvis Presley The wonder of you
Edith Piaf La vie en rose
Dalida Il venait d'avoir 18 ans
Francis Cabrel Je l'aime à mourir
Carlos Gardel Por una cabeza
Leslie Searle Blues Tango
G. A. Speckert   Tantalizing Tango
G. A. Speckert The smell of Tango
G. A. Speckert The daring white of her eyes
Jazz:
L. Bernstein Maria (West Side Story)
L. Bernstein Tonight (West Side Story)
G. Gershwin But not for me
G. Gershwin The man I love
Leslie Searle Music school rag
J. Garland In the mood
G. Shearing Lullaby of birdland
A. Newley What kind of fool am I ? (from « Stop the world »)
B. Howard Fly me to the moon
S. Joplin The entertainer
A. North Unchained Melody (film "Ghost")
C. Chaplin Smile (film "Les temps modernes")
N. Rota  Speak softly love (film "Le parrain")
R. Orbison Pretty woman (film "Pretty woman")
J. Kander Maybe this time (film "Cabaret")
B. Manilow At the copa (Comédie musicale "Copacabana")
A. Rinker Ev'rybody wants to be a cat (dessin animé "Les Aristochats")
J.-C. Petit / J.-P. Bourtayre  « Champs Elysées » (générique émission)
Classical:
Mozart Petite musique de nuit
Bach Aria
Bach Jésus que ma joie demeure
Gounod Ave Maria
Brahms Valse
Chopin Mazurka Op. 7 No 2
Vivaldi Allegro Printemps (4 saisons)
Vivaldi Largo Hiver (4 saisons)
Vivaldi Motet
Vivaldi 1er Mouvement du concerto pour 2 trompettes
Borodine Debussy Dvorak Verdi Mendelssohn Grieg Pièces romantiques
Schubert Ave Maria
Schubert Ländler und Ecossaisen
Schumann extraits de "Jugendalbum"
Grieg Lyrische stücke
Verdi La force du destin
Kreisler Schön Rosmarin
Dvorak Humoresque
Offenbach Barcarolle ("Les contes d'Hoffmann")
Delibes Pizzicato Polka