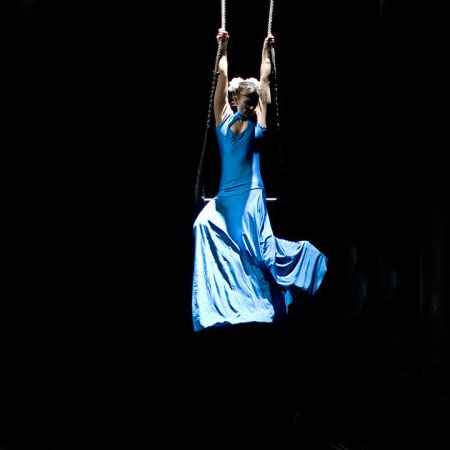 Themed Solo Aerialist
Unique, theatrical aerial performances are highly emotive & utterly enthralling
Playful choreographies showcase elegance, grace, strength & power
Can create custom performances with specific costumes, music & apparatus
Perfect for product launches, awards ceremonies, corporate events & drinks receptions
Book our themed solo aerialist for events in Berlin, Europe & worldwide
Themed Solo Aerialist PHOTOS
Our solo aerialist is a professional aerial performer with a unique theatrical performance style. Offering a range of themed performances that include an aerial trapeze act and her performing as a silk artist, our aerial dancer is perfect for a wide range of events.
Renowned for her expressive and emotive aerial performances, and her unique ability to evoke a deep emotional response from her audience - she will make you laugh with joy and cry with sorrow - our aerial performer is perfect if you're looking to tell a story and forge an emotional connection between you and your audience.
Each carefully choreographed aerial act combines tender movements that are at once elegant, playful, strong and smooth. During her aerial trapeze act she will effortlessly fly through the air to joyful music, whilst her aerial tissue act combines juxtapositions of fast movement and tempered elegance. A professional silk artist and aerial dancer she can manipulate her existing performances to portray themes of your choice: strength, power, elegance and trust, as well as create custom aerial shows.
Offering a range of different style and coloured costumes, from flowing gowns to evocative leotards, our aerial performer can also ensure that her costume fits in with your event theme and style.
Bringing to life lyrical characters, fragile floating stories and mesmerising worlds, our aerialist will captive and utterly enthral audiences of all ages and nationalities at your event.
Able to tailor our act's entertainment packages to suit your specific needs and requirements, we are able to ensure that your event entertainment perfectly fits your event. If this act has inspired you, get in contact with our expert entertainment coordinators to discuss how it could work at your event. With plenty of customisable options available, there is no limit to the possibilities available for your event.