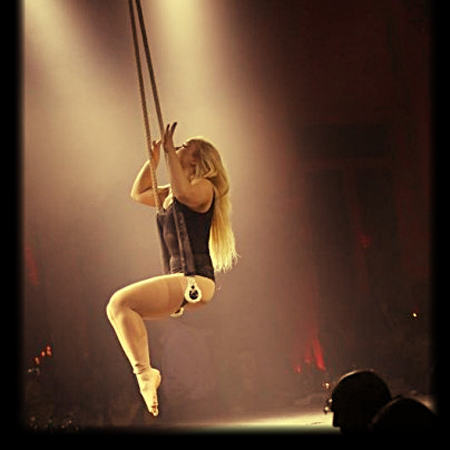 Trapeze Circus Act Performer
Stunning trapeze circus act will amaze guests with jaw dropping balances and moves
Elegant trapeze act with a sensual and romantic aesthetic
Thrilling circus act features incredible contortion and gravity defying choreography
Acclaimed aerial acrobat has performed her fabulous shows all over the world in clubs, galas and on cruise ships
Book our trapeze artists for contracts and performances worldwide
Book this stunning trapeze circus act for an elegant and sensual performance that's perfect for parties, cabaret shows, circuses and corporate events of all kinds. Our fabulous trapeze artist is guaranteed to deliver an incredible routine full of graceful choreography and plenty of jaw dropping moments. Our aerial acrobat is sure to keep audiences hooked with her amazing displays of strength, balance and contortion.
Guests will marvel at this smooth and seductive trapeze act with its flowing movement and emotive musical accompaniment. Book this fantastic circus act and treat your guests to a world class performance that brings the wow factor to any event.
Our dazzling trapeze artist has crafted a beautiful and captivating trapeze act that audiences won't be able to take their eyes off. This circus act features incredible choreography as our talented aerial acrobat spins and hangs from the trapeze in gravity defying positions or performs stunning contortion as she twists and turns her body into striking shapes and positions. 
This acclaimed trapeze circus act has dazzled audiences all over the world and our talented performer has enjoyed contracts and performances far and wide. Her impressive resume includes performances in clubs in Lebanon, as part of Circus Huberti in Germany, Gala performances in Switzerland and regular performances on major cruise ship lines. Her passion for bringing top quality performances each and every night, along with her easygoing and adaptable personality means she is the perfect choice for events and parties worldwide and will work with you in planning your event to find a trapeze act theme, costume and style that works for you. 
At Scarlett entertainment we offer you a huge range of circus entertainment from trapeze artists and acrobats to clowns and much more.
Contact our expert team to find the right acts for your event.
TV-show Norske Talenter Norway nov 2013-feb 2014
Gala City festival Germany Dreieich aug 2013
Variety show Hansa theatre Germany Hamburg oct 2012-feb 2013
Gala GOP Germany Saarbrücken 26th dec 2011
Switzerland gala dec 2011
Cruise ship MSC aug-oct 2008
La Folie Rouge Eventohem Lebanon feb-march 2015
Variety show Germany Bochum sept-oct 2013
Gala company event Germany Hannover jan 2013
Monte Carlo gala dec 2011
Variety show Krystallpalast Leipzig aug-oct 2011
Circus Huberti Germany june-august 2014