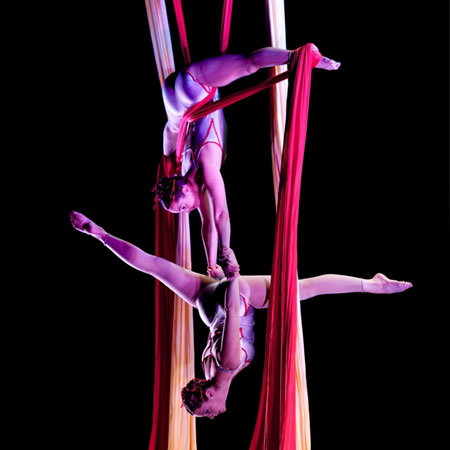 Twin Aerial Acrobatic Duo
Twin sisters who specialise in incredible acrobatic aerial performances
The talented duo is highly respected coaches and choreographers
Provide highly technical, skilful and impressive acrobatic performances
Create highly complex, bespoke shows for a range of international events
Based in Vermont and available to perform at events worldwide
Identical twins Elsie and Serenity specialise in incredible acrobatic aerial performances for corporate events, award evenings, product launches, event openings and more!
Having trained with the top circus performers in the world, the duo are now highly respected coaches and choreographers, creating highly complex, bespoke shows for a range of international events.
The twin's star aerial performances have been honoured with invitations to international circus festivals where they were awarded a Special Prize at the Wuqiao International Circus Festival in China and a Bronze Medal at the International Festival of Circus in Albacete, Spain.
They have previously performed with Cirque du Soleil, Ringling Bros. and Barnum & Bailey Circus, Cirque Le Masque, the New Pickle Circus, Pilobolus, the Actor's Gym, Umo Ensemble, Circus Smirkus and many more.
Together, this exceptional duo travel the world entertaining clients with their highly technical, skilful and impressive acrobatic performances.