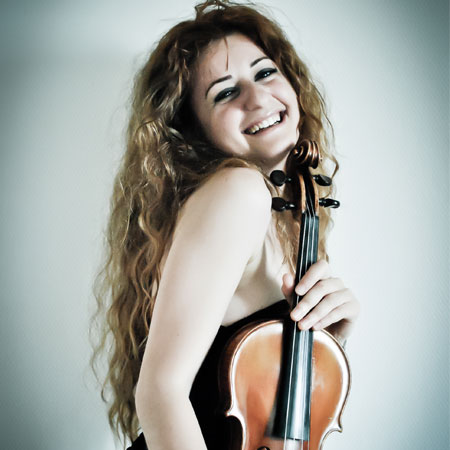 Violinist Tatevik
Glamorous female solo violinist trained to the highest level
Performs a wide repertoire of traditional and contemporary music
Performed concerts and recitals in Armenia, Russia, Switzerland...
Popular with corporate events, weddings and private parties
Available to perform at events throughout France
This glamorous solo violinist is the ideal classical and stylish entertainment option for a range of events from wedding ceremonies, product launches, exhibitions, corporate functions and garden parties.
This amazing solo violinist performs a wide repertoire of traditional classical and contemporary music.  Violinist Tatevik is trained to the highest level and has performed concerts and recitals in Armenia, Russia, Switzerland and throughout France.
Ideal for a broad variety of occasions, our female solo violinist is the perfect live music entertainment choice for weddings, themed events, dinners, social evenings, corporate events, receptions, and many more! She can set the perfect tone for your special celebration with both her classical and her electric violin.
Top Tip:
Happy to customise her performances to suit your requirements, our versatile violin player can wear different costumes and transform herself to fit different themes. One of her most popular ones is her historical themed musical act, as you can see in the pictures above.
Scarlett Entertainment offers a wide range of violin players for events and occasions in Paris, France and worldwide.
Enquire about Violinist Tatevik by contacting us today. Our in-house team of Entertainment Experts will be more than happy to answer all the questions you may have about this violin player and assist you in the booking process.
Massenet - Meditation Thais
Gounod - Ave Maria
Bach- Aria
Gluck - Melodie from "Orfeo"
Bizet- "Carmen" habanera
Vivaldi - Concerto in G 1st mvt.
Pergolesi - Sicilian
C. Chaplin - Smile
Corelli - La Follia variations
Tchaikovsky - Swan Lake – Dance Napolitano
Ravel - Bolero
Wagner – Bridal Chorus
Bruch - Violin Concerto 1st mvt. Fragment
Cohen - Hallelujah from "Shrek"
Maurice Jarre- Lara's Theme from the film "Doctor Zhivago"
Nino Rota "Love Theme" from the film "Romeo and Juliette"
Rolf Roland "Song from the Secret Garden"
"River flows in you" from the film "Twilight"
J.Horner "The Secret Wedding" from the film "Brave Heart"
Grieg - Peer Gynt