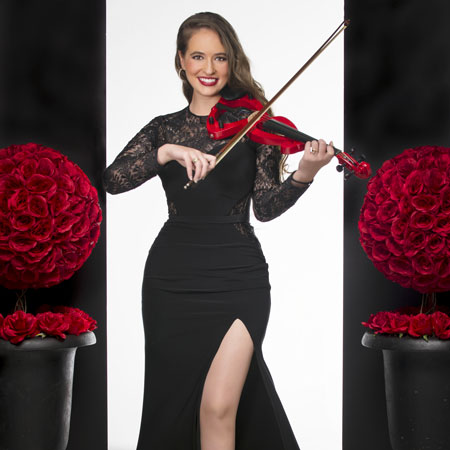 Washington DC Violinist
A stunning Washington DC Violinist who mesmerises audiences with her beautiful playing style
Perfect for corporate entertainment, brand launches, private parties, grand openings and more
Previous clients include:The King of Saudi Arabia, Congresswoman Nancy Pelosi, Presidential nominee Bob Dole, the Library of Congress & more
An event violinist who has a diverse repertoire that can be adapted to suit all occasions
Based in Washington DC USA and available for worldwide bookings
Washington DC Violinist VIDEOS
Washington DC Violinist PHOTOS
Our Washington DC Violinist began playing violin and piano at a very young age. She comes from a musical family, having first been taught by her mother, an accomplished harpist, before being under the tutelage of world renowned violinist and conductor, Luis Haza. 
While a member of the American Youth Philharmonic Orchestra and the Washington Metropolitan Philharmonic, she toured in France and Germany, and performed at Carnegie Hall. For many years now, our Washington DC Violinist has performed for weddings and special events throughout the US. Some of her past clients and venues include: The King of Saudi Arabia, Congresswoman Nancy Pelosi, Presidential nominee Bob Dole, the Library of Congress, The National Press Club, The Kennedy Center, The Smithsonian, and the September 11th Memorial Concert on the steps of the United States Capitol. 
Our Washington DC Violinist was a featured soloist at The Lincoln Theater for The Moth Radio. It was a great honor for her to perform before the "Queen of Disco" Gloria Gaynor this summer, internationally known EDM band Mako at U Street Music Hall, in the Jiffy Lube VIP Lounge before a Dave Matthews Band concert, and with The Trans-Siberian Orchestra in front of an audience of 20,000 people at Capital One Arena.  
As a cross-over artist, she specialises in both Classical and Pop/Rock/Jazz music, on both an acoustic and electric violin. Our event violinist's musical talents range from playing with classical string quartets, to lively rock ensembles, bands, and Country and Western fiddling. 
She has been in the studio multiple times for singer-songwriter artists in the Washington, DC area.  A stunning event violinist who can be seen performing at live shows and music festivals with them throughout the year. Our event violinist has quickly gained recognition for her visually creative YouTube music videos, with one reaching over 13,000 views in just a couple days.
Perfect for setting an ambient tone at events as well as performing stage show stoppers that are fantastic for grand openings and finales. 
To book our Washington DC Violinist or for more information about booking live event music for your corporate entertainment, contact our Entertainment Specialists today.
" An extremely talented violinist. Her reading of a music score and interpretation of it, her sensitivity as a solo performer and as an accompanist make her a remarkable musician. She is a most beautiful, sensitive soloist and has exceptional improvisational skills making her absolutely outstanding in her field. "

Mrs.Saldanha - Former Director of Music at Westminster School
" If we were to recreate our wedding day, there is no question we would have This violin and piano dup play again! They did a phenomenal job, and we are so thankful that they made our wedding ceremony so incredibly beautiful with their piano and violin duo! "

Heidi and Bill - Bride and Groom
" She was easy to work with and had great ideas to contribute when I was unsure about what songs should be played. She even took the time to learn several specific songs (other than traditional wedding songs) that we requested during the procession. "

Kristen and Nick - Bride and Groom
" The only word that comes to my mind when I think of this violinist is amazing! She is undoubtably the most professional, talented, beautiful violinist that I have the pleasure of knowing. "

Fred Lieder - Cellist and Booking Agent