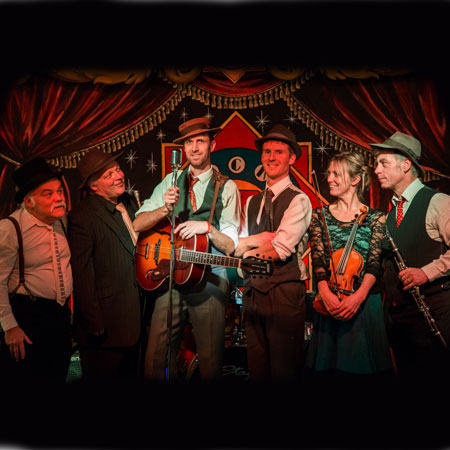 1920s Jazz Party Band Devon
A live versatile and joyful jazz party band will transport your guests back to the 1920s with their unique sound and attire
Our Jazz party band offer scalable line ups from a duo, trio, quartet to a full six piece band
Can supply an energetic DJ team with a customisable set list chosen by you
This 1920s gypsy jazz band can provide lights, sound and microphones for weddings and other events
Based in the South West and are available to hire across Devon and the UK
1920s Jazz Party Band Devon PHOTOS
Jazz Party Band Devon combine their influences of the early 1900s and gypsy jazz music from around Europe with an impressive stage presence. This highly-talented group of musicians have played alongside each other for many years and can change the instruments in their band to suit your needs. Whether it's a welcoming jazz band for a drinks reception or an evening party band with DJ, Jazz Party Band Devon can provide you with live music for your event in the South West and across the UK
If it's the live music option you are searching for, then Jazz Party Band Devon give you the option of choosing either a duo, trio, quartet or the full six-piece band complete with guitarist/vocalist, violinist, trumpeter, clarinettist, pianist and percussionist. The duo, trio and quartet options of Jazz Party Band Devon are marvellous for welcoming guests at your wedding or event ensuring they are greeted with joy, smiles and good music. 
However, if you are looking for the full party band experience then check out the full six-piece band option which will get guests at your event on the dance floor with an upbeat jazz and swing set list that appeals to all. The full party band experience is where you'll see the band integrate their jazz and swing tunes with fantastic showmanship. This band, perfect for weddings and outdoor events, play iconic hits by greats such as Ella Fitzgerald, Louis Prima, Cab Calloway, Louis Armstrong and much more as well as Gypsy, Klezmer and Ska numbers. 
Jazz Party Band Devon can also provide a dynamic DJ team to segue your event late into the evening. This DJ set can be tailored to your party and we will discuss this with you beforehand to ensure that you have only the best songs for you and your friends. If there are any songs you would like played, either by the band or the DJ, let us know and we will do our best to ensure it gets played on your big day. This band can also provide full sound and lighting at your event including cordless mics for wedding speeches and other general uses. 
If you are looking for other Jazz, Swing, Blues and Jive bands or party bands to hire in the UK or across the globe, then please check out our other pages. 
If you would like to hire our Jazz Party Band Devon, then please get in touch with one of our Entertainment Coordinators who will be happy to help you through the booking process. 
Autumn Leaves
Istanbul
Mack the Knife
Mean Blue Spirit
Some of These Days
Viper Mad
After You've Gone
Diga Diga Do
Dinah
Blue Drag
St Louis Blues
Minor Swing
Je Veux du Soleil
Bella Ciao
Joseph Joseph
Bei Mir Bist du Shoen
Choo Choo Cha'Boogie
Cantina
It Don't Mean a Thing
King of the Swingers
Monkey Man
Istanbul
I found a New Baby
St James Infirmary
Sweet Georgia Brown
Orchie Chornie(Dark Eyes)
Georgia On My Mind
Summertime
Hit the road Jack
Is You Is Or Is You Aint My Baby?
I get the Blues
Hava Nagila
Need your Love so Bad
Through the valley
Moonshiner
Tango Til They're Sore
Chocolate Jesus
Walking After Midnight
Wagonwheel