HIRE JAZZ, SWING, BLUES & JIVE BANDS
Calling all cool cats! Lindy hop, jitterbug, jive, swing and sway to the lively, feel-good rhythms that defined decades
Upbeat Jazz, Swing, Blues & Jive Bands with renowned jazz standards, modern melodies and contemporary twists perfect for chic weddings, exclusive cocktail lounges and sophisticated soirees.
---
BOOK A JAZZ, SWING, BLUES & JIVE BAND
Surprisingly versatile, Jazz, Swing, Blues & Jive Bands are perfect for many occasions. From footloose, fancy-free, feel-good rhythms with insuppressible energy to smooth, sophisticated background music that sets the right tone. With origins in 19th-century American culture, Jazz, Swing, Blues and Jive have flourished and blossomed into new and exciting territory. 
Music maestros with a passion for Jazz are continuously experimenting with contemporary fusions of different genres and imaginative arrangements of modern popular songs that pay homage to the sounds of the 1920s, 30s, 40s, and 50s. Jazz, Swing, Blues & Jive Bands are perfect for themed events such as 1920s Great Gatsby and prohibition events and military commemorations but also weddings. 
Many artists offer a versatile repertoire to provide mixed sets throughout the course of an event; beginning with smooth jazz, followed by a swinging party set and finishing with a fusion of current chart hits.
---
Frequently Asked Questions
What's the difference between jazz, swing, blues and so on?
Jazz is an umbrella term for a huge number of musical styles. What most people mean when they say jazz is what's known as 'Cool Jazz' or 'West Coast Jazz'. But there's much more to jazz than that.
Many jazz styles don't refer to a type of music, but to a type of dance. Swing, Jive, Bossa Nova, Samba and so on are all types of dance that the music accompanies in a specific way. 
Swing is upbeat, lively music usually played with emphasis on the horn section. Jive is a more specific dance that was pioneered by Cab Calloway (he even wrote a Jive dictionary) but is very similar to swing.
Blues is thought of as the grandfather of all 20th-century music. Based on a unique three-chord structure that has roots in West African music, it was developed by slaves and former slaves in the USA before diversifying in the early-to-mid 20th century. Today, blues is usually guitar-led and features electric bass, drum kit and optional other instruments. Unlike the other genres, blues will almost always have a vocalist.
Bossa Nova - literally meaning 'new trend' - is a downbeat Latin American dance emphasising coolness and sophistication. Samba, salsa, Rhumba and Cha Cha are all upbeat, energetic dances but all of the above are forms of Latin jazz. Unlike swing music, these rhythms are always straight.
Calypso is a straight, lilting rhythm with a mixture of Latin and Western jazz from the West Indies and has its own, laid-back vibe. 
Gypsy jazz is typically fast, string-instrument-based jazz that usually comprises guitars, double bass and fiddle. This was big in the Hot Club of Paris and made famous by Stephane Grappelli and Django Reinhardt. 
Will a jazz band perform songs that my guests will recognise?
Originals are a very rare thing in jazz. So the answer is a resounding 'yes'.
Every jazz band in the world will have a good knowledge of what are known as 'standards', which are songs familiar to you and me that make up 90% of the jazz repertoire. There are literally thousands of jazz standards, but the most popular ones are some of the biggest tunes of the 20th century. 
The Way You Look Tonight, Summertime, Autumn Leaves, Tea For Two, Fly Me to the Moon, Come Fly With Me are all classic jazz standards that audiences know and love. In recent decades, pop tunes like The Best Things in Life Are Free, Blackbird, Waterloo Sunset and many of Stevie Wonder's tunes have made it into the jazz standard repertoire.
There are bands that play their own material and it's usually of an extremely high standard too, so if you are in the market for something different that your guests definitely won't have heard before, speak to one of our entertainment specialists about that too. 
What are 'jazz standards'?
Standards are the jazz world's bread and butter. For nearly 100 years, they have assured the day-to-day survival of jazz musicians and jazz music!
They are an extensive list of songs that form the basic jazz repertoire, performed by virtually all jazz musicians worldwide. Songs that you may have thought Frank Sinatra or Michael Bublé wrote were almost certainly written in the 1920s and 30s for musicals and shortly after became known as standards.
Most come from the Great American Songbook - songs written for Broadway or Hollywood films - and were adopted by improvisational jazz musicians of the day. As blueprints for improvisation, they can be as simple or as complicated as the players wish.
Popular standards include: The Way You Look Tonight, Summertime, I Get a Kick Out of You, Come Fly With Me, Cry Me a River, I Got Rhythm, Tenderly, At Last, Moon River, Luck Be a Lady, Mack the Knife and so on.
Do you have jazz bands that also perform pop covers?
There are many, but what's more common is a pop covers band that play jazz as well. The best covers bands are made up of musicians who have dedicated their lives to being able to play every genre of music so it is always worth asking what a pop band offers besides pop.
Due to the typical line-up of jazz bands - piano, saxophone, double bass and drum-kit - any pop covers they do will likely sound 'jazzy'. That's not to say that it can't be done, but certainly give our expert team a call to see what they can do for you. 
Can I hire a jazz band that can perform different styles of sets throughout the evening?
Jazz is as varied as the night is long, and most bands will have line-ups to suit a variety of occasions. A single jazz band can have a solo pianist to play soothing lounge jazz while your guests sip their dry martinis. After that, ta main stage septet is perfect for after-dinner dancing. For a wind-down in the lobby, a quartet is a perfect soundtrack for romance.
The styles of music often depend on the instrumentation involved. Very often, jazz bands can provide music from a range of genres, most prominently swing, jive, funk, Motown, pop and Latin. These alone are a great live music option for most events.
What does a 'jazz trio', 'jazz quartet', and so on include?
The line-ups for jazz bands differ by genre and period. A traditional jazz trio will be a piano, a double bass and a drum kit, and this forms the basis of all larger line ups. Sometimes these core instruments are replaced with similar ones, such as piano for guitar, or acoustic bass for an electric one.
A melody instrument - usually either a saxophone or a vocalist - is added for a quartet. For quintet, sextet, septet and so on, groups will add horns such as trumpets, trombones and saxophones. If the band is Latin-focused, more percussion will be added. There are no hard-and-fast rules to this, and many groups have their own specific set-ups to diversify their sound. Other jazz genres may add a guitar.
These band line-ups are the standard for swing, jive, big band and so on, but can also be altered to suit funk (by making the bass electric and the keys digital), Motown, soul and more.
Is a jazz band suitable for a corporate event?
Of course! We've got everything from sultry cocktail jazz for the hotel bar to huge big bands ready to take over your stage. Jazz is a unique combination of sophistication and fun, and can strike a perfect note in corporate situations. A good jazz band implies intelligence and class as well as relaxation.
We've got jazz bands for every style and custom option, so it's worth considering the look, feel and atmosphere you want to create. Scarlett Entertainment has got a jazz ensemble to fit your special event.
Can I hire a modern or young cool jazz band for my event?
Absolutely. Not all jazz bands are ageing white men who wear pork pie hats. In fact, jazz has been having a renaissance among the young, and cross-genre jazz groups that include styles like hip-hop, EDM and more are becoming increasingly common.
If you want a trendy, down-the-line, sophisticated jazz band, then you've come to the right place. The majority of our jazz acts are bright young things who have trained at conservatoires and cut their teeth on the professional circuit. 
So you can be assured of their quality as well as their youthful style.
Can I hire a female jazz vocalist for my event?
We have a large representation of female vocalists all over the world, so the only question is 'What kind of female vocalist do you want?'
From a sultry, smokey singer in a silk dress who'll wow guests at a cocktail party to a diva that will belt the biggest numbers to a crowd of 500, there is something for every event at Scarlett Entertainment. 
Most female vocalists can perform to their own backing tracks for smaller events or provide their own backing band. Many of our female vocalists also theme their acts to periods such as the 1920s, Great Gatsby or World War II, to provide your themed party with exactly the right entertainment.
Is it possible to request a special song or first dance by a jazz band?
Jazz music is founded on improvisation and learning tunes to a high standard very quickly. Anything you request will be able to be learned and arranged to specification (and given the band's line-up) by any jazz bands worth their salt.
A great deal of jazz is designed to be soft and romantic, making it absolutely perfect first dance music. If you've got a specific idea of your first dance song in mind, superb. However it might also be worth asking your jazz band what they would recommend. After all, the likelihood is they've played hundreds of weddings and know exactly what is most powerful and what might seem like it in the imagination but flops on the day. 
In any case, requests are a basic part of being a jazz musician, and the ability to think on your feet a cornerstone of jazz music. 
Can I hire a jazz band to perform on a super-yacht?
One of our more popular options are roaming jazz bands. They can play in any venue, anywhere - be it a yacht, a mountainside, or wandering around bars in Verbier. They provide your event with sophistication while on the move and can dance along with your guests while playing.
Roaming jazz bands don't lose any of the sophistication of your regular jazz band for being on the move, so if you want all-round entertainers that can go room-to-room, check out our roster of brilliant roving jazzers.
Do you have ideas for jazz bands with a twist?
More and more, jazz bands are diversifying what they do. The traditional quartet has its place and is well-loved, but these bands will almost always offer something extra that only they know how to do.
Broadly, these specialisations fall into two areas: musical and thematic. 
Musical twists are as varied as your imagination! Pop covers by jazz bands, Latin renditions of opera classics, hybrid style jazz bands, Andrews Sisters-style vocal trios, and much, much more.
Thematic twists are where a band is themed a certain way or introduces visual or theatrical ideas into their act. Prohibition, wartime, gangster, Belle Époque, Hot Club of Paris, Bebop and so on are all themes that feature heavily and provide a great spectacle to the act.
A fair number of these acts do both. It's a good idea to contact our team of entertainment experts to find out exactly how we can make your event fulfil its 'wow' potential.
Can bands play both instrumental and vocal sets?
Bands with vocalists will often be able to offer instrumental sets in addition. This may be that one or two members of the band perform separately, or it may be that the band feature a lead soloist alongside the singer (for instance on saxophone).
You can always ask a band if they are willing to play an instrumental set and are highly like to get the answer 'yes' - even if it is off the cuff.
If you have booked an instrumental jazz band but decide that you would also like a vocalist at the last minute, don't hesitate to inform the band of this. It is very likely that they know or will be able to find a vocalist. Alternatively, contact our team of Event Specialists and talk through your event requirements.
Can jazz bands play acoustic sets? Do they all need amplification?
The majority of jazz instruments are acoustic: upright bass, drum kit, saxophone, trumpet, guitar etc. They are, however, relatively quiet so even if the band can play acoustically, they will generally sound better amplified.

Do I have to hire a piano for jazz pianists?
As a rule of thumb, jazz pianists will provide their own digital piano, stand and amplification. This is always the preferable option, as piano hire (digital or otherwise) can be very costly.
If the venue already has a piano, it may still be best to ask the pianist to use their own. Unless it is a prestigious concert hall, most venues neglect their pianos and it may be out of tune or difficult to play. While many pianists may be amenable to playing a venue's piano, they will not be used to it and you are likely to get a much better performance by asking that they play their own. 
In addition, a digital piano can be plugged into a PA which can fill an extremely busy room. Unless a venue's piano is a very large grand, it will have difficulty filling such a space. 
How long is a typical set length?
Typically, Jazz sets will be in 45-minute slots. Bands will usually offer two or three sets per gig. It is unusual for an act to offer more than three hours of music.
Some soloists will offer extended background music sets, occasionally as much as three hours (with breaks on the hour). Many bands have pianists who will offer such a service in addition to playing in the band itself. When booking a band, always check whether the musicians offer any other acts in addition to the headline act.
What technical requirements do jazz bands have?
As far as bands go, jazz bands have relatively few technical requirements.
The vast majority will provide all of their own amplification gear, however in very large venues or dedicated concert venues it is advisable to use the venue's equipment. 
Always remember that there may be complications in terms of sourcing instruments or transporting the musicians' instruments when taking a band out of their home country.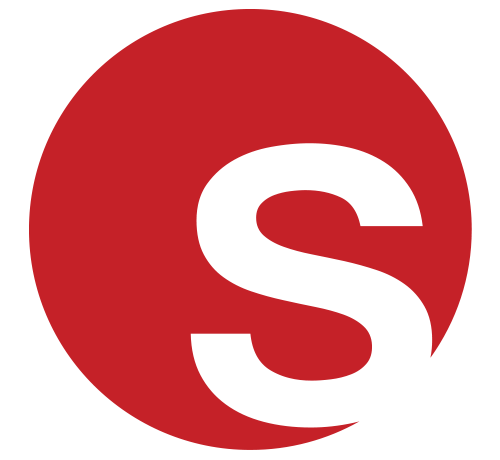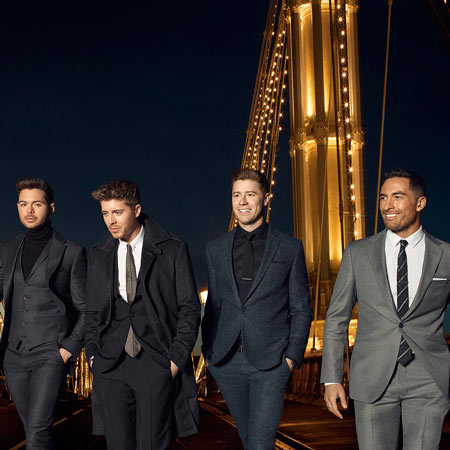 Featured Act
FEATURED ACT: JACK PACK
Taking guests back in time to an era when the Rat Pack ruled the airwaves, Jack Pack embody the spirit of the crooners of old. Performing stunning dynamic vocal performances, they're available as a singing quartet or can incorporate a full 18-piece backing band that adds an incredible element of sophistication to any event. With hits including "My Way," "That's Life," and "Feeling Good", there is sure to be something to suit every taste, leaving guests wanting more. 
Click here for profile
CASE STUDY:

Tinsel and Jazz

Our local Jazz Party Band delighted the entire Scarlett Entertainment team at our lavish 1920s-themed Christmas party. The band greeted everyone with toe-tapping rhythms and feel-good tunes upon arrival, reminding us of their talents as they performed a diverse repertoire featuring jazzy covers of recognisable hits.

It was an evening of festive fun and themed entertainment that took place at Buckland Tout-Saints, a gorgeous secluded manor nestled in the rolling hills of Devon. In addition to the jazz trio, our Classic Burlesque Performer performed a sensational, sultry routine, we solved a murder mystery plot brought to life by a cast of talented actors and Party Band Session had the team up on their feet, dancing the night away.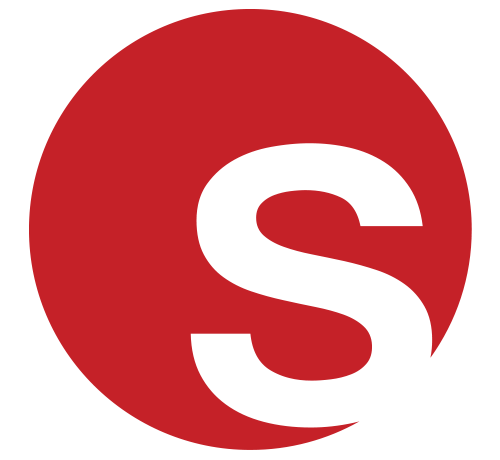 Currently Trending - Jazz, Swing, Blues & Jive Musicians
Expert Advice on hiring Jazz, Swing, Blues & Jive Musicians
Our Head of Artist Development Daniela gives her top tips
What kind of events would you recommend a jazz band for?
Jazz, swing, blues and jive bands are a great addition to themed events especially 1920s and 1930s style celebrations. We have a huge selection of phenomenal jazz bands that would make the mighty Jay Gatsby proud! 
Jazz bands are also an excellent choice for cocktail receptions as they create a warm, inviting atmosphere with smooth ambient tones that fosters a real "live lounge" vibe.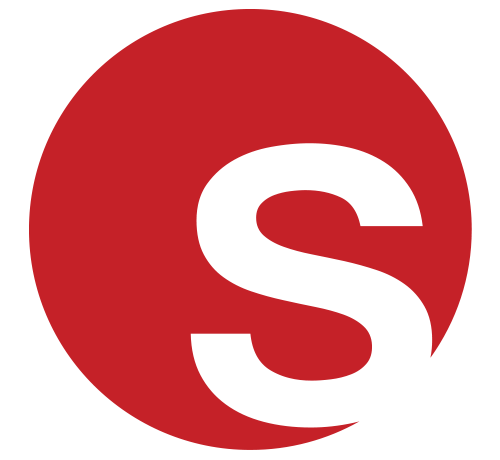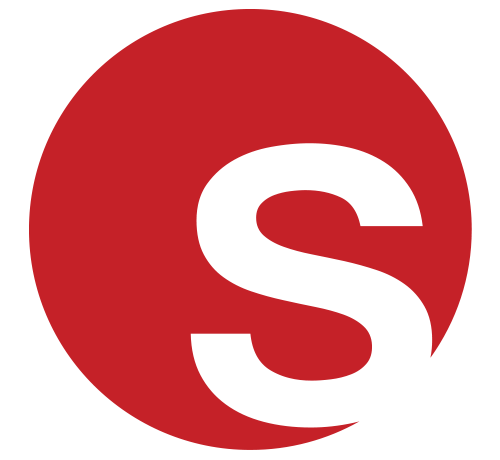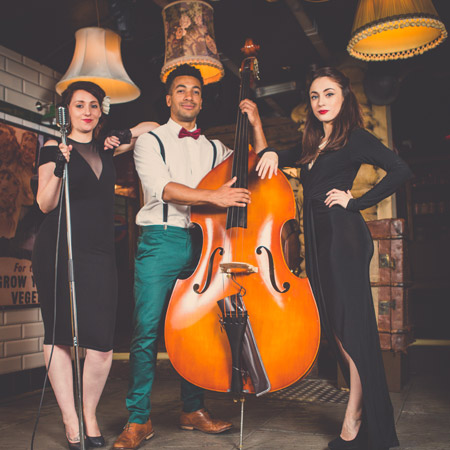 New and Exciting Jazz, Swing, Blues & Jive Musicians
Meet the Pop Twist Jazz Band! This is luxury vintage entertainment with a modern twist featuring London's top session musicians. Our modern jazz band perform popular hits, from across the decades, in a classic jazz style. We're talking everything from 'Billie Jean' to 'All About That Bass'!
The band's lineups are flexible, starting from a 2-piece all the way up to a spectacular 10-piece show band, so they are perfect for a range of budgets, events and venues. They've entertained the likes of NSC Global, Twitter UK, Royal Ascot and countless other high-profile clients with their new and exciting jazz fusion style.
Click here for act profile
Who are some famous Jazz, Swing, Blues & Jive Musicians?
Postmodern Jukebox

There are too many iconic jazz artists to name and yet every single one influenced the music we hear today. You've probably heard of Billie Holiday, Ella Fitzgerald, Frank Sinatra, Glenn Miller, Louis Armstrong, Louis Prima, Nina Simone and Ray Charles at the very least but the list goes on! Our jazz, swing, blues and jive bands, including Postmodern Jukebox, revive and celebrate those artists' legacies every time they perform the classic jazz standards. Their toe-tapping, hip-swinging sets are guaranteed to take guests all the way back to the 1920s when jazz as we know it began.