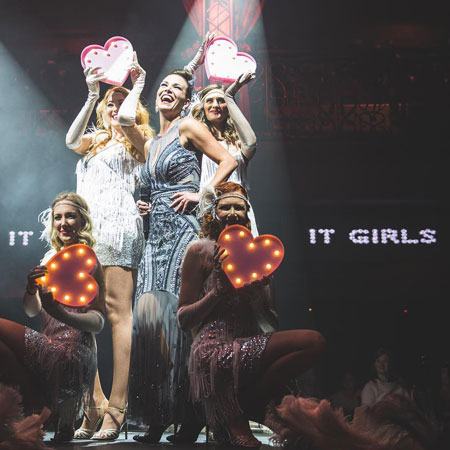 Cabaret with It Girls
The It Girls are a unique and exciting world collective of dancers, musicians, vocalists and DJ's
A striking, high-energy blend of cabaret, showgirl, musical theatre and live musicians with breathtaking vocalists
A range of ready-to-go shows perfectly suited to a variety of events as well as the option to create a completely bespoke show
Choose from a range of line ups and themes including Moulin Rouge, Great Gatsby, Licence to Thrill, Feather Reveal, Best of British and more!
Among London's leading live entertainment brands, the It Girls have performed for Sir Richard Branson, Mercedes Benz, One & Only Resorts and more
Cabaret with It Girls VIDEOS
Cabaret with It Girls PHOTOS
Originating from London these talented ladies are a unique and exciting world collective of dancers, musicians, vocalists and DJs.
The fusion of all these artists is known as 'The IT Girl Experience' and can be formed of 2 - 12 girls who collaborate to create bespoke entertainment shows.
Created in 2004, The IT Girls have become one of London's leading brands in live entertainment. Together with the support of their professional creative team of choreographers, stylists and music producers they have won admiration from some of the world's most successful brands including Sir Richard Branson for the Virgin group (as well as for personal family occasions), Mercedes Benz, Van Cleef & Arpels, Sony and One & Only Resorts.
Want your next event to sparkle? Want a birthday that goes with a bang? Want to be rocking around the Christmas tree or see in the New Year in Style? Then The It Girls are right for you.
The IT Girls have oodles of experience in hosting events of all sizes, in all manner of venues, all over the world. We've got professional dancers, singers and musicians and the creative and technical teams that guarantee a stellar performance, and a great time for all.
Take a look at our favourite party themes of the moment:
The Great Gatsby - Our Great Gatsby performance will whisk your guests away to the roaring twenties, an age of excitement, jazz and sophistication. Now, where are those flapper dresses?
Modern Cabaret - Cabaret is alive and well and in this show as the IT Girls let the creativity of their choreography and production shine, putting together a captivating performance of classic cabaret with a totally modern twist.  
The Best of British - Want your next event to be a decidedly British affair? The National Anthem, James Bond and The Beatles are just some of the features that make this a showcase of everything that good and great about Britain.
Dance through the Ages - Our latest show, the Golden Divas packs everything fantastic about the 60s, 70s, 80s, 90s and 00s into one rollercoaster of a show. It's sure to get your guests up on their feet and boogieing until late.
Fether Reveal - If you're looking for an extra special entrance for a birthday or event then our feather reveals are the perfect way to grab your audience's attention and put you right at the heart of the action
Vintage Paris - Imagine bringing the glitz and glamour of famous Paris nightspots to your next event and giving your guests the time of their life. Our vintage Paris theme is the ideal blend of flirtatiousness, fun and frivolity.
Not quite what you had in mind? Our amazing creative team of choreographers and producers can help tailor any one of our packages to your needs whether you are booking a corporate event, birthday or even a Christmas party. We can work with you on anything from a champagne reception, a dinner show or a dinner/dance show to get your guests up on that dance floor, just drop us a line to find out more.  
Did you know? We offer a wide range of stage show performances on our international roster
Book this scintillating act to take your event to the next level, get in touch with our specialist team who will talk you through the booking process.
Café de Paris
Glastonbury Festival
Marriott Hotel - Cannes
Moët
Sir Richard Branson
Southbank Centre
The Dorchester
Warner Brothers
...and many more!
BBC 2
George V - Paris
Hotel Café Royal
Mercedes Benz
One & Only resorts
Sony
The Candlelight Club
Van Cleef & Arpels
Wilderness Festival
Burgh Island Hotel
" The Pussy cat dolls who? The IT Girls are IT "

Mr.Lionel Richie
" We had a post event review with the client and they have been raving about the evening since the event. We were blown away and felt you took the event to another level. The girls were phenomenal. I would very much like to work with you again. "

Phil Dunk - Mercedes Benz Gala Dinner
" I have worked with some acts in my time but this is an act I would love to bottle and take home. Absolutely perfect and didn't want to let them go. The girls are brilliant. They were loved by the entire audience which I hope showed in the vibe in the room. Brilliant! Can't praise Tasman and the girls enough "

Nic Robertson
" We would personally like to thank you for being part of the tremendous success of the recently concluded New Year gala event at the Emirates Palace. This would not be possible with out very good presentation which compliments the entire entertainment program for that evening. Thank you for making this event a truly memorable experience "

Hans Olberto - General Manager for the Emirates Palace Abu Dhabi
" Live Entertainment is a love of mine so when I saw the girls performing for Virgin Atlantic in 2005 in Shanghai for our direct flights from London I knew that the show was perfect for the Virgin Brand. We stand for quality as well as doing things differently whilst still having fun and enjoying ourselves and this is exactly what this show was about it certainly got the party started.The choreography was cheeky and fun yet sophisticated with a certain quality that was very 'Virgin Friendly'. I then asked if the girls would come to Australia with me the next day to help me promote Virgin Money, Virgin Blue and Virgin Unite at launches in Sydney and Brisbane, it was a great success. "

Sir Richard Branson