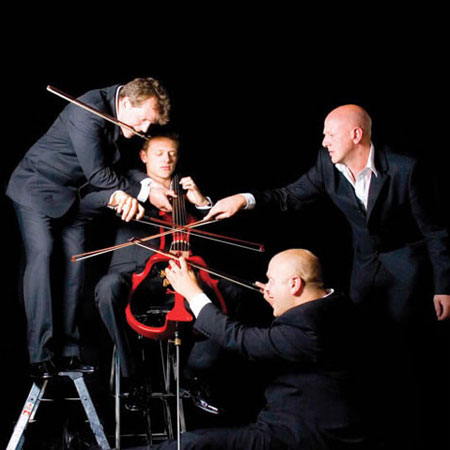 Strings and Beats
Male string quartet comprised of three brothers and one cousin who combine classy musicianship, comedy timing and a contemporary sound
Ingenious electric strings and beatbox act that is fast-paced, funny, interactive and includes everything from Mozart to Metallica
Strings and Beats have performed their trademark show in virtually every continent on the globe with over 1000 shows in 32 countries
From brilliant renditions by classical composers to foot-stomping rock, and walks down memory lane this cabaret show has it all
Electric string group based in London and available to perform at events worldwide
Strings and Beats combine exceptional musical skill with a real talent for engaging audiences to provide you with an evening you'll never forget.
Take four relatives, three electric violins and one cello; add some live beat-boxing, sheer talent and a good dose of British comedy and witness a totally unique act that exceeds all expectations! 
Electric Strings and Beatbox Cabaret Show 
Comprised of three brothers and one cousin who are all classically trained to an extremely high level, this male string quartet performs a unique show with classy musicianship, comedy timing and a contemporary sound. 
From brilliant heartfelt renditions by classical composers to foot-stomping rock, and walks down memory lane this cabaret show has it all. Full of hilarious and wow-factor moments from start to finish, the show includes: 
History of Music in 5 - Strings and Beats' high-paced romp through time with 40 tunes in five minutes
Ravel's Bolero - amazing display of musical gymnastics with the whole group playing on one cello at the same time
Movie Themes - movie soundtrack medley which is performed as a hilarious quiz 
World Renowned Electric String Group
This unique electric strings and beatbox cabaret show is in high demand and Strings and Beats have performed in virtually every continent on the globe with over 1000 shows in 32 countries. This dynamic electric string group have performed their trademark cabaret show at The Rothschild Villa, Windsor Castle, The Bejing Festival, on BBC's The One Show and at many more corporate and private parties 
Book the electric string group, Strings and Beats, for an ingenious show that is fast-paced, funny, interactive and includes everything from Mozart to Metallica. The perfect cabaret show entertainment for gala dinners, corporate ceremonies, conferences and more.
Top Tip
In addition to their cabaret show, Strings and Beats can perform live walk up stings at awards ceremonies. 
To find out how we can add the wow-factor to your next event, get in contact with our team of Entertainment Experts today. 
 
Adagio - Albinoni
Air on a G string - J.S.Bach
Bach Double 2nd Mvt. - J.S.Bach
Bolero - Ravel
Bridge over troubled waters - Simon & Garfunkel
Canon - Pachelbel
Czardas - Monti
Eleanor Rigby - Lennon/McCartney
How deep is your love - BeeGees
Hungarian Dance No. 5 - Brahms
Hungarian Dance No. 6 - Brahms
It don't mean a thing - Duke Ellington
Lady (hear me tonight) - Modjo
Meditation - Massenet
Monaghans Jig - Trad.
007 theme - Monty Norman
Putting on the Ritz - Irvin Berlin
Sabre Dance - Kachaturian
Shalom Aleichem - Trad.
Sir Duke - Stevie Wonder
Spring - Vivaldi
Stand by me - Ben E. King
Summer 3rd Mvt. - Vivaldi
The History of Music.....in 5 minutes!
The flight of the Bumblebee - Rimsky-Korsakow
The girl from Ipanema - Jobim
Those were the days - Raskin
To life - Jerry Bock
Winter 1 - Vivaldi
Winter 2 - Vivaldi
Yesterday - Lennon/McCartney
Pour una cabeza - Carlos Gardel
AON
Barclays
Cayman Islands Art Festival
Claridges
Friday Night Is Music Night
Gillette
Grovesnor House
Jebel Ali Golf Resort Dubai
London Hilton
Norton Rose
Ontonio Music Festival Spain
RBOS
Royal College of Nursing
Taste of London
The Bejing Festival
The Foreign Office
The One Show
The Waldorf
Visit Britain
Volvo
Wyeth
222 club
BT tower for BT Global Services
Bobby Moore Fund
Celtic Manor
Freight and Export awards
Fujitsu
Global Hair Salon Awards
Henley Festival
London Business Awards
Madame Tussauds
O2
Peugeot
Radisson
Shell
The 4 Seasons Hotel
The Dorchester
The Holders Festival Barbados
The Rothschild Villa
Tower bridge
Visit London
Windsor Castle
...and many more!
ADT securities
" ...there was no way I was gonna miss this gig, you dont see a band like this everyday! "

Tony Visconti - Record Producer
" You guys were truly amazing, what a fantastic wealth of talent in one family! "

Lorraine Kelly - TV Presenter
" Thank you for providing such fantastic entertainment at the Bobby Moore Fund Golf Day yesterday. I am truly grateful for your support. "

Stephanie Moore MBE - The Bobby Moore Fund
" ...an act that not only delivers what you want but exceeds all expectations and as an added bonus are an absolute delight to work with. "

Cayetena Brown - Intercommunic8
" Truly genre defying, they create musical magic and are a delight to watch and listen to.. "

Brian Daniels - Off West End Theatres
" You guys were fantasic. Hark at me, talking to the musicians. I use to play the cornet you know. "

Jimmy Hill - Football Legend