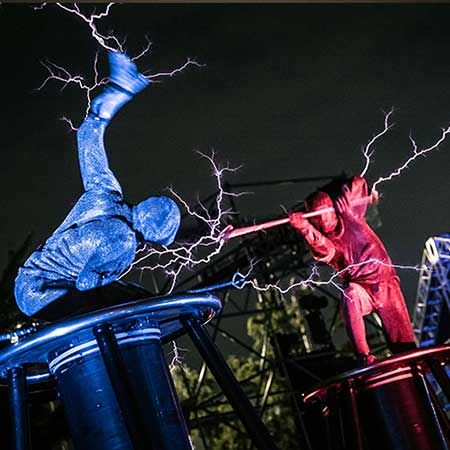 Lords Of Lightning
One of the most unique and fascinating shows on the planet
Electric live performance with 4 million volts arcing between their bodies
Previous clients include Ripley's Believe it or Not, BBC's Blue Peter and Glastonbury Festival
A world-renowned display harnessing the raw power of Tesla coils
Based in the UK and available to perform at events worldwide
Lords Of Lightning VIDEOS
Lords Of Lightning PHOTOS
One of the world's most unique and electrifying performances
The Lords of Lightning show, created by Carlos Van Camp in New Zealand, has become one of the most unique and fascinating shows on the planet!!
Out of the darkness, comes the crackle of Lightning Bolts crashing into the night from each of the two towers. Two beings, dressed in metal suits enter the stage area and interact with the power of lightning.  They begin on a journey of exploration, climbing onto the machine, to discover they have the power to direct the bolts of lightning being generated by huge Tesla coils
Feel the excitement build
The action intensifies as the show progresses, and culminates in a dynamic battle between the two performers. Harnessing four million volts of electricity this performance has seared itself into the memory of audiences to be talked about long after the event has finished. This show will quite literally raise the hairs off the necks of anyone who witnesses it.
Top Tip:
Our performers have an additonal act called 'Frequency Rider.' It's the perfect choice for those looking for a slightly smaller performance without losing the stunning visual effects created by the electricity and incorporates a stunning choreographed display set to music.
Contact one of our Entertainment Co-ordinators who will be able to assist you in booking this or any other act on our global roster.