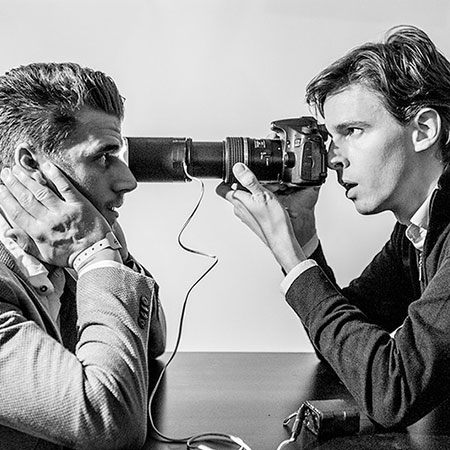 Eye Art Photography
A group of artistic eye photographers immortalize the essence and beauty of the human eye in a photo
Experts use their own-patented technology to create ultra high-resolution human eye photos
An original, innovative and unique gift for your guests that they can treasure forever
Eye art images can be taken, edited and printed at live events, exhibitions, art galleries, dinners, etc.
This Eye Art Photography service is available for events all across the UK and worldwide
Eye Art Photography PHOTOS
If you have never looked closely at your own eye, then you're missing an extraordinary universe. This Eye Art Photography Service will give guests at your event the opportunity to discover a fascinating galaxy of pattern of forms, shapes and colours that is truly unique.
Our group of artistic eye photographers have specialised in close-up eye photography to offer people the possibility to discover the beauty of their own eyes. They use their own-patented technology to take ultra high-resolution human eye photos. Once the pictures are taken, our experts will enhance its details with an image editing software specially designed for it.
A stunning piece of art that people can treasure forever, these human eye photos can be professionally-printed live at your event or digital versions are also available so your guests can share them online. All eye art images can be branded with logos, websites or any other text to achieve maximum exposure.
An original, innovative and unique gift, eye art images are guaranteed to catch the attention of your guests at your upcoming event. Ideal for art galleries, dinners, exhibitions and many other live events, close-up eye photography is a service that can be adapted to different spaces and types of occasions.
Especially popular at fairs and exhibitions, our photographers' stand normally buzzes with people queuing up to be photographed. Close-up eye photography also generates a huge amount of conversations on social media, as everybody loves sharing their eye photos with their friends and followers!
Top Tip:
Our experts can turn all the eyes from an event into a bespoke piece of art. It can be shared digitally or printed in large format for the office wall. Check the pictures above to see some examples. You can slso find out more about the story behind this concept with our blog written after they came to the office. 
If you're interested in booking this fantastic Eye Art Photography service for your upcoming event, contact us today and make an enquiry. Our dedicated team of Entertainment Specialists will be more than happy to provide further details on our artistic eye photographers and guide you through the booking process.
Affordable Art Fair
By Word of Mouth
" Quite simply the most innovative and crowd-pleasing supplier we've ever had the pleasure to work with "

Specsavers
" It was a pleasure to work with the guys, they were really helpful and worked hard in getting all our guests photographed. It was actually the most popular activity, and really well received! "

Mastercard
" By far the most popular stand at the event. There were queues of people comparing eyes and bringing their friends over to be photographed "

Affordable​ ​Art​ ​Fair
" I've always thought I had such boring brown eyes. How wrong I was! "

Gok Wan, TV Presenter