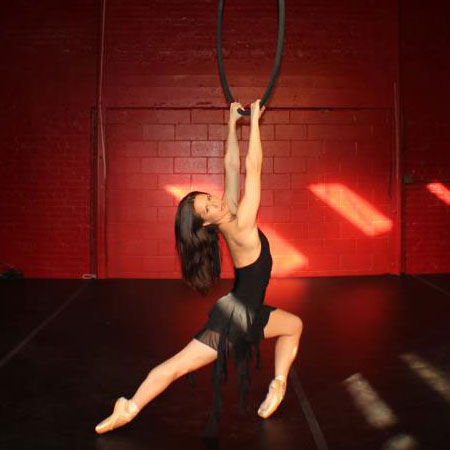 Aerial Dance Performer
A passionate & gifted aerial and acrobatic teacher and choreographer
Performs on all types of apparatuses, incl. silks, lyra, trapeze & hammock
Can be seen regularly performing in film and television projects
Performs as a soloist or in a group to set music or live musicians
Based in California & available to perform at events worldwide
Aerial Dance Performer PHOTOS
Aerial Dance Performer Sita is a passionate and gifted teacher and choreographer who specialises in aerial performances for all types of events, and performs on all types of apparatuses, including silks, lyra, trapeze and hammock.
Growing up in Los Angeles and surrounded by artists, her inspiration to be a performer began young. In 1998 Sita joined a renowned dance troupe and internationally acclaimed company of "daredevil dancers" that combine dance and acrobatics with enormous and interactive stage props. She toured with them for five years, whilst learning more and more about progressive acrobatic dance. Sita also acted as rehearsal director for the troupe, and was part of the original team for many of the company's dance works.
From 2003-2009 Sita was also a performer and part of the creative team for the world-renowned Cirque du Soleil. This was a unique project in that she was able to work with many different world-class artists including costume, lighting and set designers, puppeteers, choreographers and directors, expanding her already great experience.
Today, Sita regularly performs in theatrical productions, as well as film and television where she can be seen in the film, "Water for Elephants". She has performed with many well-known companies and venues including, Zen Arts, Bella Circo, E Plus Ent, A-Max Ent, Way2Much Ent, Luminario Ballet, and Cirque Berzerk.
Bringing her high quality act to events, Sita can perform a solo act, duo, or group act. Performance venues include theatrical events, outdoor events, cabarets, nightclubs, etc. Any act can be done featured (choreographed to a set music track) or ambient (improvisation with a DJ).
" She encourages us to achieve our own personal best and to grow as individual students in a very safe and precise teaching environment. "

A happy student
" I've had the privilege to watch Sita in her trainings…where her wonder for other performances mixes with her own creativity and she works tirelessly and excitedly on creating. "

Julie Mills, aerial student
" Sita is a mesmerizing, hypnotic, elite and unparalleled performer on aerial hoop, trapeze, and other aerial apparatuses. She is music, she is power, she is soul. "

Judith FLEX Helle, director, Luminario Ballet of Los Angeles
" As a teacher and pedagogue, Sita is knowledgeable, sensitive, intuitive, and knows when to push or pull back the student, thus allowing the aerial student to build strength and courage safely. "

Judith FLEX Master Aerial coach and choreographer