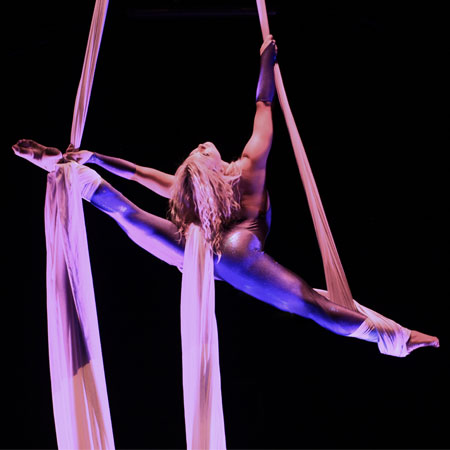 Aerial Silk Performer
Stunning silk artist & aerial performer offers a beautiful aerial tissue act
Expect elegance, charm, unexpected drops, considered twirls & much more
Can also offer an aerial act with a higher tempo & added attitude
Perfect for corporate events, awards ceremonies, dinners & product launches
Based in Sweden & available to book for events worldwide
Aerial Silk Performer PHOTOS
In this stunning aerial tissue act elegant and charm combine with energy and flexibility to create a breathtaking performances that will leave audiences speechless at every twist and turn.
A highly experience silk artist and aerial performer, book our aerial dancer for corporate events, awards ceremonies, dinners and product launches and ensure that your audience is suitably wowed! Graceful climbs, heart-stopping drops, unexpected twirls and considered poses make up this fantastically captivating aerial performance - guests won't be able to look away!
Usually performed as a five-minute aerial dance, she can tailor the performance to suit each client's needs and also incorporate specific music, costumes and colour schemes. If you're looking for something a little more upbeat she can also offer an aerial tissue act with a faster pace and added attitude.
Dynamic and undeniable beautiful, inquire to book our amazing aerial silk artist for your event today!
Top Tip
Our talented circus entertainer and performer is also trained in a wide range of additional circus arts and can perform adagio, trapeze and contortion as well. Talk to one of our entertainment coordinators to find out more.
Tv-show Norske Talenter Norway Nov 2013 - feb 2014
Gala City Festival Germany Dreieich Aug 2013
Gala Company Event Germany Hannover Jan 2013
Cruise Ship Msc April - Oct 2012
New Year's Variety Switzerland Herdern Dec 2011
Monte Carlo Gala Dec 2011
Variety Show Krystallpalast Leipzig Aug - Oct 2011
Sri Lanka Gala At The Hotel Cinnamon April 2011
India Feb 2010
Circus In Riga July 2009
Latina Circusfestival Italy Oct 2008
La Folie Rouge Eventohem Lebanon Feb - March 2015
Variety Show Germany Bochum Sept - Oct 2013
Tour India June 2013
Variety Show Hansa Theatre Germany Hamburg Oct 2012 - Feb 2013
Guldstänket Company Event Västerås Sweden Feb 2012
Gala Gop Germany Saarbrücken 26th Dec 2011
Switzerland Gala Dec 2011
Gala Germany Koblenz July 2011
Cruise Ship Msc Poesia May 2010 - March 2011
Cruise Ship Ibero Cruceros Aug - Oct 2009
Galas Braunschweig Germany Dec 200
Cruise Ship Msc Aug - Oct 2008
Circus Huberti Germany June - August 2014