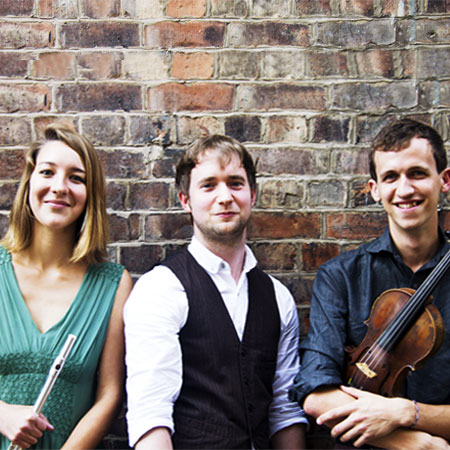 Flute, Violin & Piano Ensemble
Three highly talented and professional music graduates
Perform Bach to Bowie, Mingus to Mozart and Coldplay to Coltrane
Bring a refined and sophisticated atmosphere to your special event
Endeavour to provide the perfect music for a variety of occasions
Based in London and available to perform at events worldwide
Flute, Violin & Piano Ensemble PHOTOS
Working closely with clients to ensure their performances create just the right atmosphere, the Flute, Violin and Piano Ensemble are available to perform a wide selection of music to suit any occasion.
From Bach to Bowie, Mingus to Mozart and Coldplay to Coltrane, the trio always endeavour to provide the perfect music for any event.
The three talented musicians met while studying Music at Newcastle University, where they all graduated with first class honours, and the ensemble was formed after the three friends moved to London.
All highly talented and professional, the Flute, Violin and Piano Ensemble guarantee to bring a refined and sophisticated atmosphere to your special event.
To find out more about how to book contact our team of Entertainment Experts.
Afro Blue (Coltrane)
Moon River (Mancini)
A Night in Tunisia (Gillespie)
Nostalgia in Times Square (Mingus)
All Blues (Davis)
I'm Beginning to See the Light (Ellington)
Autumn Leaves (Kosma)
Satin Doll (Ellington/Strayhorn)
My Funny Valentine (Rogers/Hart)
Georgia On My Mind (Carmichael)
Phase Dance (Metheny)
Hit the Road Jack (Mayfield)
Black Orpheus (Bonfi)
Blessed Relief (Zappa)
Classical:
Humoresque (Dvorak)
Air on a G String (Bach)
Panis Angelicus (Franck)
Entr'acte – from Carmen (Bizet)
Norwegian Dance (Grieg)
Traumerei (Schumann)
Minuet & Trio – from Eine Kleine Nachtmusik (Mozart)
Jazz:
Hungarian Dance No.5 (Brahms)
Anita's Dance (Grieg)
Waltz (Gounod)
Rondo a la Turk (Mozart)
Serenade (Schubert)
Sextette (Donizetti)
Largo (Handel)
Pop:
Ain't No Sunshine (Bill Withers)
Moondance (Van Morrison)
Urge for Going (Joni Mitchell)
Golden Brown (The Stranglers)
Girl from Ipanema (Antonio Carlos Jobim)
Life on Mars (David Bowie)
Cannonball (Damien Rice)
Three Little Birds (Bob Marley)
All You Need Is Love (The Beatles)
Clocks (Coldplay)
Let It Go (from the Disney film Frozen)
Happy (Pharrell Williams)
Sound of Silence (Simon & Garfunkel)
Classical Continued:
" I booked Flute, Violin & Piano Ensemble for a medical conference dinner to play during the drinks reception and a formal three-course dinner. They were extremely professional to deal with at every level, as well as being flexible and reliable. The sets they played were varied, some songs being very modern adaptations and others traditional, and were delivered to a very high musical standard. I received many compliments about the occasion and would definitely recommend them to others. "

Glenda H, Corporate Client
" We both had the most magical day and the music topped it off to being such a classy do! I was really holding back the tears walking down the aisle. Honestly, you were one of the best parts of the whole day and I can't stop thinking about it. "

Rowena H, Wedding Client
" Our Summer Drinks is an important occasion in our calendar. Flute, Violin & Piano Ensemble proved to be a fantastic addition to the event bringing elegance and perfectly pitched music to compliment the evening. The trio responded to the brief with style and provided a diverse repertoire in keeping with the relaxed and welcoming atmosphere. With such professionalism and reliability, we would recommend them to anyone looking for musicians to bring something extra special to their events. "

Lucy Bramley (General Director, Rowan Arts), July 2014