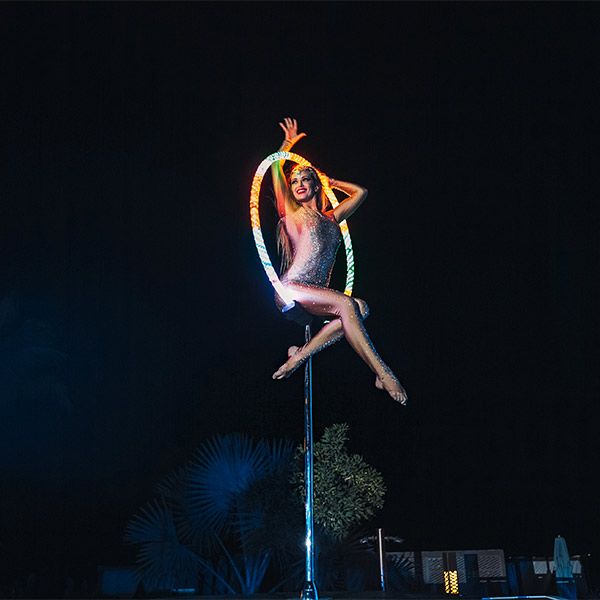 Freestanding Aerial Hoop UAE
Highly trained aerialist stuns audiences with atmospheric performances
Freestanding Aerial Hoop UAE is perfect for events that do not have the logistics for a silk aerialist
Years of experience performing a range of disciplines from aerial silks to aerial hoop, crescent moon and pole
Previous clients include Atlantis, Ritz Carlton, GMC, and many more
Based in Dubai UAE and available for worldwide bookings
Freestanding Aerial Hoop UAE PHOTOS
A highly trained aerialist and gymnast who has years of experience performing for huge crowds, our talented hoop aerialist stuns from above as she performs elegant routines in and around her hoop without the need for rigging and structural beams. Freestanding Aerial Hoop UAE boasts the ultimate ambient event entertainment option for all events whether they be indoors or outdoors.
The perfect alternative for any event looking for a stunning aerialist but lacking in the logistics to book one for their venue, our Freestanding Aerial Hoop UAE is fantastic for all kinds of events whether it be corporate events, private parties, brand launches or product reveals. 
With years of experience performing and dazzling audiences from all over the globe our exceptional Dubai hoop aerialist is a talented performer who has mastered a wide array of disciplines from aerial silks to aerial hoop, crescent moon and pole. 
A Freestanding Aerial Hoop UAE act who has performed for clients such as Atlantis, Ritz Carlton, GMC and many more, our talented Dubai hoop aerialist is the perfect event entertainment option for any occasion looking to make a big impact at their corporate or private event. 
Our Freestanding Aerial Hoop UAE can adapt every performance and tailor her look to complement your event whether it be adhering to a colour scheme or wearing a costume to tie in with your theme. 
Top Tip:
Our Dubai hoop aerialist can also perform a range of options at your event from silks to hoop, crescent moon, pole and more. 
Guaranteed to leave a lasting impression on your guests our Freestanding Aerial Hoop UAE boasts ambient event entertainment that is of the highest calibre. 
To book our Freestanding Aerial Hoop UAE or for more information about booking event entertainment and our Dubai hoop aerialist, contact our helpful team of Entertainment Specialists today.