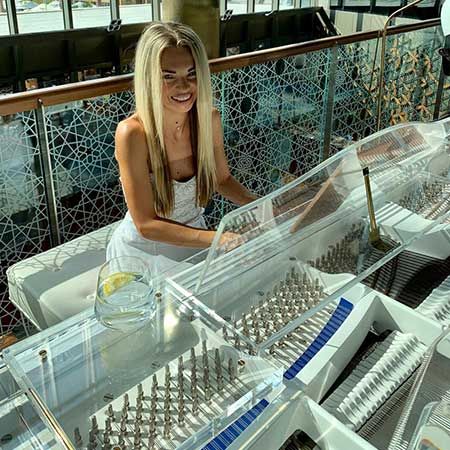 Female Luxury Event Pianist
Our incredible female pianist will add an extra touch of elegance to your event with her fantastic live piano performance
Her varied repertoire covers famous piano pieces, well-known jazz standards and a range of international tracks including popular Arabic songs
As an experienced lounge and cocktail pianist, she has performed on TV, in international competitions and for luxury hotels
She is the ideal performer for corporate events, weddings, private parties, longer residency contracts and any events with an international audience
Our fabulous pianist is based in Ukraine and available for events across the globe
If you are looking to add a sophisticated and glamorous tone to your event, we cannot recommend our Female Luxury Event Pianist enough! Thanks to her perfect pitch and mastery of the piano, she offers an elegant performance that is certain to impress your guests. 
With years of experience as well as appearances on TV, international competitions and performances at luxury hotels such as the Rixos Hotels, our pianist is able to adapt her performance according to the event. This virtuoso can offer a wide repertoire of classical piano pieces but can also include jazz and pop tracks too. She is also always a hit with international audiences thanks to her varied set-list that can also include popular tracks from a variety of countries.
Her hypnotising talent on the piano is ideal to complement lounge and cocktail parties as well as any corporate events or weddings. Based in Ukraine, she is available to perform at international events and venues.