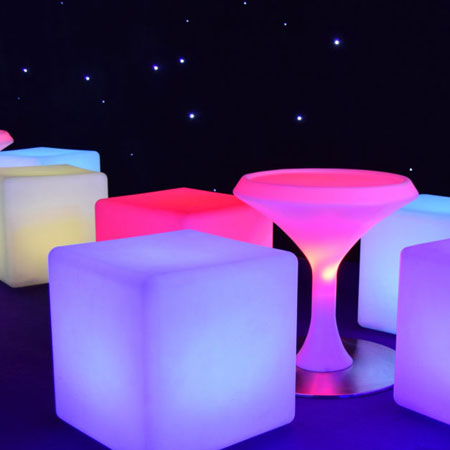 LED Event Furniture UK
A variety of tables, chairs, bars and event decor props to choose from
16 different colours to choose from, so LED event furniture can all match or stand out against each other
Battery powered LED Furniture allows quick and easy venue styling
Different styles and sizes of LED tables, chairs and spheres to suit different venues
LED furniture based in the Midlands and available to book throughout the UK
LED Event Furniture UK PHOTOS
Our LED event furniture is a great way to easily transform your event. Each LED furniture product offers 16 different colours to choose from, ensuring whatever your theme, the LED tables, chairs, sofas, bars or table decor will be suitable. 
All of our LED furniture is battery powered, making setting up quick and easy whilst reducing any health and safety risks with electrical wires trailing throughout your venue. The sleek and simple design makes venue styling extremely easy as our versatile LED event decor is both functional and attractive. 
The colour of each LED furniture can be changed throughout the event with a infrared controller; ideal for changing the atmosphere or mood during the event.
 
The LED event furniture available to hire is:
LED Bar Stools & LED Poseur Tables - The bar stools have a 8 to 10 hour battery life, and the LED tables last between 5 to 6 hours. The LED tables have 4 built in programs that feature any of the 16 colours to suit any event. 
LED Sofas - Our LED sofas are perfect for creating an ambience and chill-out zones throughout your venue. With a straight LED sofa and LED curved benches, different sizes and shapes can be built to suit your venue styling requirements. The benches can create a curvy line or circular seating areas. 
LED Chairs - We have several different styles of chairs, including the popular bubble chair and terraza chairs. These can also colour change throughout the event.
LED Tables - We have LED coffee tables measuring 80cm in diameter, that can feature company branding if wanted. Also available are mini champagne tables, these go really well with our LED cubes. The cubes are extremely versatile and are often used as chairs or tables, or event as event decor, dotted around your venue. 
LED Event Decor - We also have some 'open' and padded cubes, the open cubes can be used as ice buckets or as illuminating shelving units to frame products or other event decor items. Alternatively a padded cushion can be added to offer more seating. If you're looking to display more items and products, our hexagonal plinths are perfect for this. Available in 3 different heights they immediately demand interest. 

Our LED spheres are also perfect for venue styling and theming. They can be used as table decor, to line an entranceway or red carpet, or even dotted about on grass to create a magical and theatrical atmosphere. Available in 3 different sizes they are extremely popular. 
LED ice buckets are also a practical yet decorative form of venue styling; they look great contrasting against our LED tables, or on top of a bar. 
LED Bar - A bar is often one of the most important areas of an event, and what better way to make sure it's easily identifiable than having an illuminated one? We have several options, from a straight bar to circular LED bar. Different lengths and shapes can create a completely bespoke design. 
All of our LED event furniture is battery powered, allowing both indoor and outdoor use. The LED furniture is often booked alongside our dance floors. Our LED event furniture is based in the Midlands, but is easily transportable throughout the UK.  
 
If you'd like more information on our LED event furniture get in touch with our helpful team who can answer any questions and guide you through the booking the process. For alternative venue styling options or event decor browse our range of event suppliers here.