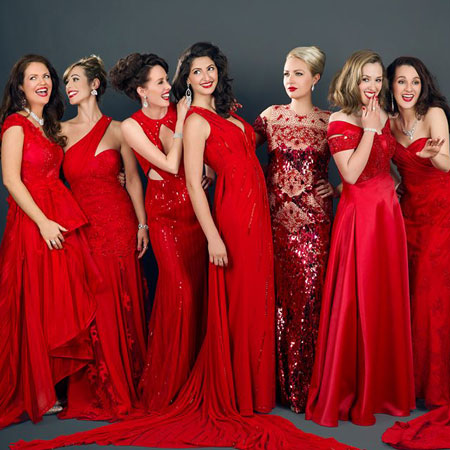 7 Piece Soprano Show
Stunning female performers create amazing atmosphere with wonderful vocal ranges
Phenomenal opera singers perform with elegance, sophistication and dedication
Wonderful live music show provides magical and memorable qualities
Ideal classical musicians for private parties, gala dinners, theatre performances, sporting events etc.
This international act have performed at a range of high profile corporate events including the Dubai Shopping Festival
7 Piece Soprano Show VIDEOS
7 Piece Soprano Show PHOTOS
Book our extremely talented soprano classical musicians, and watch as your guests are transported to a magical and memorable live music show experience that will transform your event into a musical wonderland. A professional group of opera singers that expel exceptional performances that are bound to leave unforgettable memories. Performing as a theatrical group, our talented female performers are the real deal, and will provide your special event with an epic soundtrack that will compliment a variety of different event themes and style guidelines.
A passionate, dedicated, and professional group of soprano female performers, our wonderfully skilled classical musicians showcase a wealth of performance experience having performed at a multitude of events around the world. Offering a dynamic performance, our sensational opera singers will perform songs including, "Danny Boy," "Dream A Little Dream," "Somewhere Over The Rainbow," and can even perform an assortment of magical Christmas based songs like "Little Drummer Boy" and "Have Yourself A Merry Little Christmas." A memorable live music show that will captivate guests of all ages.
Offering the perfect ambient experience, our versatile and talented opera singers will perform with true professionalism and electric stage presence that will have your guests talking about your event and our outstanding classical musicians for weeks to come. Delivering a performance that is sure to provide mass appeal, our adaptable female performers are sure to charm your audience with ease. The ideal live music show experience for private parties, gala dinners, drink receptions, theatre performances, corporate gatherings, themed occasions, and much more. This truly international act can sing in English, Italian, French, German and Spanish and are the perfect act to perform rousing National Anthems for different countries at big sporting events.
Our outstanding opera singers and classical live music show experience is available for a variety of different sized events, and if you are interested in booking our talented opera singers, contact any of our phenomenal Scarlett Entertainment team members who are standing by to assist you with your booking process. 
The Toreador Song (from Bizet's Carmen)
Granada
Carmen Medley from ( from Bizet's Carmen)
Drinking Song  - Brindisi (from Verdis' La Traviata)
Tonight tonight  (from Bernstein's Westside Story)
Champagne Chorus (from J. Strauss's Die Fldermaus)
Time to say Good-Bye
We are the Champions
Nessun Dorma (Puccini's Turandot)
Contemporary Songs:
Wonderful World
Moon River
Diamonds are a girl's best friend
When I Fall in Love
The Prayer
Nella Fantasia
Beatles Medley
Love Me Sweet
Dream A Little Dream
Strangers in the Night
Wishin' and Hopin'
Classic Songs
Danny Boy (can be sung a cappella or accompanied)
Autumn Leaves (can be sung a cappella or accompanied)
La Vie en Rose
Musical Theatre/ Operetta songs:
I could have danced all night (My Fair Lady)
I Got Rhythm  (Girl Crazy)
Love Changes Everything (Aspects of Love)
Phantom of the Opera (Phantom of the Opera)
Think of Me (Phantom of the Opera)
Masquarade (Phantom of the Opera)
Wishing you were somehow here again ( Phantom of the Opera)
Somewhere over the Rainbow (The Wizard of Oz)
Hello Young Lovers (The King and I)
Bali Hai (South Pacific)
Somewhere (Westside Story)
America (Westside Story)
Three Little Maids (The Mikado)
You'll Never Walk Alone (Carousel)
Big Spender (Sweet Charity)
Art is Calling for Me (The Prima Donna)
The Laughing Song (Die Fledermaus)
Whatever will be will be (There's No Business Like Show Business)
Anything Goes (Anything Goes)
All The Things You Are (Broadway Rhythm)
Keep Young and Beautiful (Roman Sandals)
Summertime (Gershwin – Porgy and Bess)
A Sun Whose Rays (The Mikado)
Big openers and closing ceremony recommendations:
Opera Medley (5 mins in length – includes highlights of well known opera favourites beautifully arrranged – Musetta's Waltz song Lakmé duet Barcarolle Habanera and Gypsy Song)
Barcarolle (Tales of Hoffmann)
Lakme Duet (short version and full length) (Lakme)
Seguidilla (Carmen)
Carmen Medley (Habanera and Gypsy Song from the opera Carmen)
The Letter Duet (The Marriage of Figaro)
Toreador Song (Carmen)
Champagne Chorus (Die Fledermaus)
O Mio Babbino Caro (Gianni Schicchi)
Un Bel Di (Butterfly)
Ch'il bel Sogno (La Rondine)
Lascia ch'io pianga (Rinaldo)
Amarilli mia bella
Deh vieni non tardar (The Marriage of Figaro)
Song to the Moon (Rusalka)
Je Veux Vivre (Romeo et Juliette)
Musetta's Waltz Song (La Boheme)
Una Furtiva Lagrima (The Elixir of Love)
Vocalises
Rachmaninoff's Vocalise
Massenet's Violin Concerto as Vocalise
Sacred
Schubert – Ave Maria
Bach/Gounod - Ave Maria
Lloyd Webber - Pie Jesu
Franck - Panis Angelicus
Britten – Holcum/ Balulalow
Christmas
Melakalikimaka (Hawaiian Xmas Song - unaccompanied)
Balulalow (Britten - Ceremony of Carols)
It's the Most Wonderful Time of the Year
White Xmas
Joy to the World
Silent Night
Silver Bells
Xmas Medley
Jingle Bells
Let it snow let it snow
Have Yourself a Merry Little Christmas
Catch a Falling Star
Little Drummer Boy
Anthems
All the World in Union (Rugby)
Australian National Anthem
God Save the Queen (UK)
Opera
" Excellent, fantastic performance – a great concept. What a pleasure to work with you "

IBM Dinner, Versace Hotel, Georgina Jorgensen, CI Events
" An operatic troupe of international standards - an absolute hit, thank you for launching the new Audi "

Audi, Singapore
" I've died and gone to heaven. Ridiculous, just so good. Astonishing! A triumph, a triumph! "

Alan Jones, Radio 2GB, Sydney, Australia
" We knew we were in for a treat when we read the biographies of these young up and coming opera singers but when they made us laugh, cry with their voices and be taken away to another world we thought these girls have struck gold "

John Graham, Gold Coast Convention Centre
" We don't often get all the partygoers to pay attention to any one single act...but they did for you. Your voices were strong and beautiful and you looked stunning in the dresses you performed in. We couldn't have asked for more "

Peter Howland, Principal - The Edge Creative, Inc, LA
" Stunning, beautiful and amazing voices of The 7 Piece Soprano Show mesmerised 1200 guests in what will be an Awards Night Opening  they shall never forget "

Sandra Barreau, Event Production Management, Australia
" Like 7 sails of the Sydney Opera House – The 7 Piece Soprano Show are Australia's greatest voices. They get my vote – true talent "

Dawn French