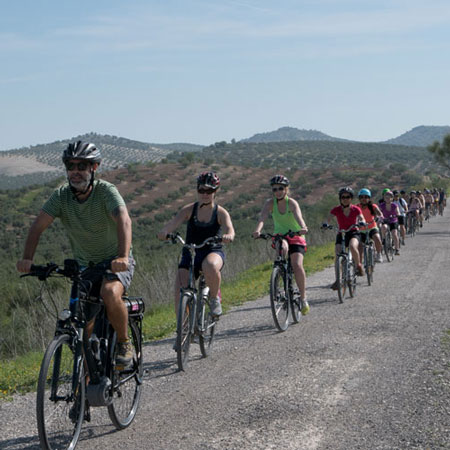 Andalusia Group Bike Tours
Explore picturesque locations in Andalusia with these excellent guided bike tours
Two routes to chose from both approximately 35km and three to four hours long
Visit beautiful countryside, wildlife and sight see mountains and rivers
Guided tours available in multiple languages and for various group sizes
Tours take place in Andalusia, Southern Spain
Andalusia Group Bike Tours PHOTOS
Give your guests a proper authentic Andalusian experience with a phenomenal Spanish sightseeing guided bike tour. The Andalusia group bike tours lets you experience some of the most remote corners of Andalusia, cycle past picturesque white villages, through luscious green countryside, along magnificent rivers, past local olive groves and near to the picturesque mountain ranges. 
Suitable for groups of up to seven people, or more on request, our wonderful private bike tours have a choice of two routes each approximately 35 kilometres long and lasting around three to four hours. Bikes and guests are driven to the locations which takes up to two hours. Andalusia group bike tours supplies a choice of several bikes including electric bikes for those less physically able than others. Everybody is equipped with a bike helmet, two bottles of water and a basic bike repair kit.
Both the routes on the Andalusia group bike tours are based around Via Verdes which are disused railway tracks that have been turned into cycle tracks and gives guests a real Spanish sightseeing experience with beautiful scenery. The sightseeing bike ride also offers tailor made tours to cater for all needs. 
The routes are:
Vía Verde de la Sierra (from Olvera to Puerto Serrano), 36 km
This guided bike tour runs along the banks of numerous rivers and passes the majestic rock of Zaframagón, a wonderful vulture reserve. 
Via Verde de la Subbética (stretch from Luque to Lucena), 32 km 
This private bike tour takes guests to charming villages such as Luque, Zuheros, Doña Mencía, Cabra and Lucena, where they can admire beautiful castles, mountains and amazing olive groves.
Booking Tips:
• Will drive you and bikes from Malaga to the destination
• Choice of two bike tours
• Offers a choice of bikes complete with helmet, water and repair kits
Contact our destination experts at Scarlett Entertainment to book your guests a superb Spanish sightseeing bike ride with the Andalusian bike trek.