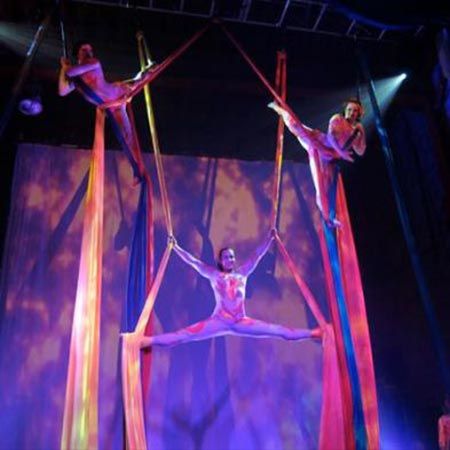 Cirque Style Entertainment
Visually stunning aerial show, a masterpiece of circus, light, & theatre
Performing to international acclaim & sold out audiences around the world
Customized show for your audience. Perfect for corporate events
Previous performances inc Olympic Stadium in Greece & Bellagio Hotel Vegas
Based in New York, USA and available to perform at events Worldwide
Cirque Style Entertainment PHOTOS
This act are a group of professional aerialists and cirque-style artists who have come together with the express purpose of creating the most innovative, spectacular entertainment on the planet. Performing to international acclaim and sold out audiences around the world, their edgy style and distinctive acrobatics in the air and on the ground have made them one of the most sought after acts of its kind.
They offer a range of options to suit your entertainment needs. Choose a single act to add flair to any event, or let them put together a customized show for your audience. Their work has been featured in corporate launches, casinos, celebrity parties, night clubs, theatres, stadiums, and arenas around the world.
Blending award-winning cirque acts with dazzling lighting effects, this visually stunning, family friendly production is the perfect addition to any theatrical season, and can be adjusted to suit corporate events, private parties, concerts, large scale stage shows, etc.
Audiences around the world have called them "visually stunning" and "a masterpiece of circus, light, and theatre" - who are we to contradict them? Combining acrobatic daring with cutting edge lights and projection, taking cirque-style performance to a kaleidoscopic new level.
The Krystal Palace in Germany
And hundreds more...
The majestic theaters of Bangkok Thailand
The Olympic Stadium in Greece
The Casino Estoril in Portugal
They performed to international acclaim at such prestigious venues as:
The Bellagio Hotel and Casino in Las Vegas home of Cirque du Soleil's "O"
" Curiously appealing and wonderfully entertaining, they mystify their audiences. Bodies intertwine, harmonizing like music, flowing like art, blending together to create a visual masterpiece "

Athena Starr, Talent In Motion Magazine
" THANK YOU!!! Your team was amazing and the performances were just incredible. Everyone was in absolute awe and the client was thrilled. Seriously you guys rock! Thanks for making it such a great experience. "

Aimee N. NYC Public Relations Company
" They were the icing on the cake for my multimedia event in Chicago. The grace and beauty of this show is unparalled, and the crowd could not pick their jaws off the floor! "

Kelly O'Brien, Regional Manager Gen Art
" As they worked on double fabric slings, engaging with their winning smiles and effervescent personalities, it was impossible to keep from smiling watching them. "

Spectacle Magazine