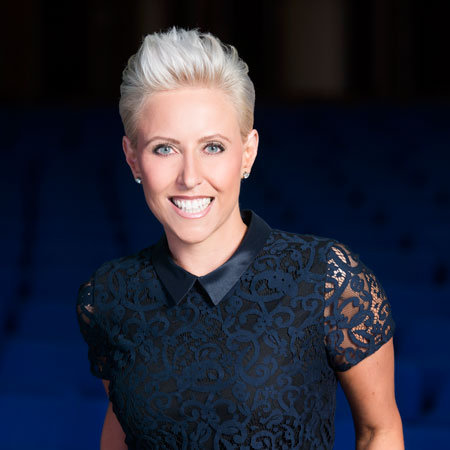 Event Emcee Laura
Leading female emcee for conferences and events
When Laura emcees your event she is proud to become a full-time Brand Ambassador of your company
Our event host captivates audiences with her positive energy, expertise and enthusiasm
A TV presenter, she uses her extensive television experience to bring a level of ease and expertise to on-stage and on-camera interviews
Based in Chicago, US, Event Emcee Laura is available for bookings worldwide
Looking for a powerful and experienced emcee to host your event? Look no further than Event Emcee Laura. 
Laura has had great success as an Emcee as she keeps audiences engaged and their energy in-sync with the event's overarching purpose while driving a message of inclusion and corporate culture.
Laura embraces emceeing conferences and events of all sizes, conducts interviews on stage with CEOs, industry leaders and celebrities, and moderates expert panel discussions. 
Through her effortless energy, she tailors her role as an emcee to the tone and purpose of each conference and becomes a true Brand Ambassador of your company or association, its culture and industry. 
Laura prepares for each event, regardless of size or scope, by conducting extensive research into the organization or association's mission, brand and audience.
Laura emcees for a variety of events, including annual conferences, international forums, charity galas, sporting events and fashion shows.
Whether addressing an intimate gathering of 30 or a crowd of 30,000, Laura captivates audiences with her positive energy, expertize and enthusiasm. 
Laura has received high marks for her work as emcee and motivational speaker for many prominent corporations including Hewlett Packard, Microsoft, Mercedes Benz, Cathay Pacific, HSBC, BlackRock, Pacific Life, MACY'S, Hilton Worldwide, the Oprah Winfrey Network, Hyatt, NBC Universal, PepsiCo, Coldwell Banker, Asembia Pharmaceutical and more.
Discover more of our keynote speakers, and contact our team to find out more.