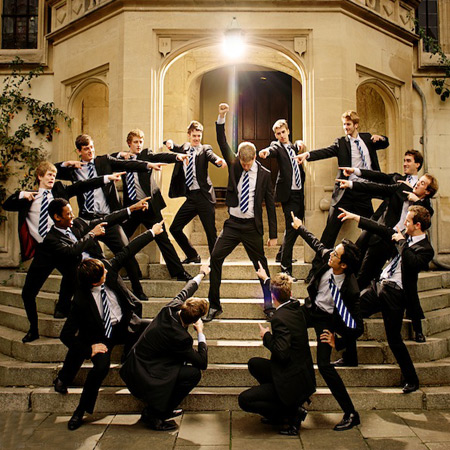 Male A Cappella Group
Oxford's premier and internationally recognised male A Cappella group
14 sharp-suited singers provide a musical experience like no other
An unbeatable cocktail of hot harmonies and outrageous choreography
Have won the Edinburgh Fringe Festival's sell-out award five times
Based in Oxford and available to perform at events worldwide
Male A Cappella Group VIDEOS
Male A Cappella Group PHOTOS
This Male A Cappella Group is Oxford's premier all-male a cappella group.
Beginning in 2000, the group have gone on to enjoy international success, having sung in Spain, Scandinavia, Japan, Hong Kong and the USA to school children, Presidents and everyone in between.
In the UK, the men sing at a number of events, including the Edinburgh Festival Fringe, the largest arts festival in the world, where they have won the Fringe sell-out award five times and gained critical and popular acclaim.
In 2011, the A Capella group reached the live semifinals of the popular show Britain's Got Talent, where they were featured on national TV and even received praised by Simon Cowell!
The group conducts dozens of school workshops throughout the UK and the US each year. Their goal in doing so is to instil in school children a sense of courage and adventure when it comes to performing and engaging with music, a joy that they hope to share with their audiences every time they sing on stage.
Since 2006, the group has supported Helen and Douglas House, an Oxford-based charity that started in 1982 as the world's first hospice for children with life-limiting illnesses. Each year, the Male A Capella group performs alongside famous British comedians for thousands of supporters at the charity's annual fundraising event, and the group collects donations for the charity after all of its public concerts in the UK.
Their enjoyment is contagious, their musicality infectious, and so hold onto your seats…this is a cappella like you've never heard it before! Some of our a cappella musicians can also offer a smaller act and a more tailored repertoire. If you're considering this option, check our Acoustic Medely Duo page and see for yourself what they can do for you.
To add the WOW factor to your event get in touch with our team of Entertainment Experts.