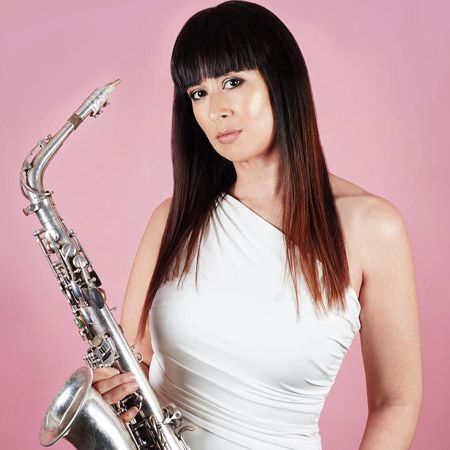 Saxophonist Kit
An award-winning saxophonist who has performed at some of London's top jazz clubs and TV appearances on Strictly Come Dancing and the X-Factor
She can perform with other artists including percussionists and can offer popular for chill-out/ Cafe del Mar/ funky house sets with a DJ
Highly adaptable with ambient background sets -suitable for corporate events, nightclub events, VIP parties, festivals and weddings
Clients include the BAFTA awards, Audi, Longines, Bulgari, Lacroix plus TV celebrities and royalty
Based in the UK, our skilled saxophonist is available to perform worldwide
Kit is an award-winning graduate of the Royal Academy of Music in London.
As a musician, Kit's credentials are impeccable: She excelled at jazz and classical styles while studying at the Royal Academy, where she showcased her talent on the saxophone, clarinet and flute. While attending the Academy she complimented her traditional training by touring with The Who's legendary front man Roger Daltrey. We is no stranger to appearing in professional shows at the National Theatre, performing at esteemed London jazz spots the Jazz Cafe and 100 Club, and working in tandem with DJs at the world's most iconic super-club, the Ministry of Sound. After graduation, Kit quickly and successfully established herself in the mainstream world of music performance.
Hitting the tour circuit as a saxophonist who's also adept at taking on backing vocalist duties, Kit has shared the stage with Michael Bolton, Billy Preston, Darlene Love, Cliff Richard, Gareth Gates, Simon Townshend (the younger brother of The Who's Pete), the X-Factor's Ben Mills, and the long-running West End show Chicago. When not traveling on tour, Kit has embraced TV and radio opportunities.
Her recorded credits include Top of the Pops, Strictly Come Dancing (with Il Divo), Good Morning America, the X-Factor, Alan Titchmarsh (with Rod Stewart and Craig David), plus X-FM's Christian O'Connell Breakfast Show and BBC Radio 4 (with the quartet SAX).
Building on her experience performing with rock and pop stars, Kit has made rapid steps into the celebrity entertainment scene. She's graced the Sex And The City film premiere in London, birthday celebrations for Princess Michael of Kent and TV chef Mark Nicholas, Premiership soccer player Robbie Keane's wedding, The Cartier Rock the Polo event, the A1 grand prix opening ceremony, and the TV BAFTA's award show.
Kit also plays regularly at exclusive club nights run by the HedKandi super-brand, Miss Kelly Marie's slick High On Heels collective, and at the Playboy Club in London's Mayfair district, plus events sponsored by the high-end brands Verve Cliquot, Audi, Maurice Lacroix, Longines, Bulgari, and the One and Only resorts.
To find out more about how to book contact our team of Entertainment Experts.
Solo Sax to backing tracks performing Jazz/ American Song Book or Chill Out/ Funky Ambient.
Duo with Sax & Piano or Flute & Guitar
Saxophone Quartet
Available to book with:
Good Morning America
Alan Titchmarsh (with Rod Stewart and Craig David)
Breakfast Show
Sex And The City film premiere in London
Premiership soccer player Robbie Keane's wedding
the A1 grand prix opening ceremony
the HedKandi super-brand
the Playboy Club in London's Mayfair district
Audi
Longines
One and Only resorts
Kit has shared the stage with:
Billy Preston
Cliff Richard
Simon Townshend (the younger brother of The Who's Pete)
and the long-running West End show Chicago
Top of the Pops
the X-Factor
X-FM's Christian O'Connell
BBC Radio 4 (with the quartet SAX)
birthday celebrations for Princess Michael of Kent and TV chef Mark Nicholas
The Cartier Rock the Polo event
the TV BAFTA's award show
Miss Kelly Marie's slick High On Heels collective
Verve Cliquot
Maurice Lacroix
Bulgari
Michael Bolton
Darlene Love
Gareth Gates
the X-Factor's Ben Mills
Strictly Come Dancing (with Il Divo)