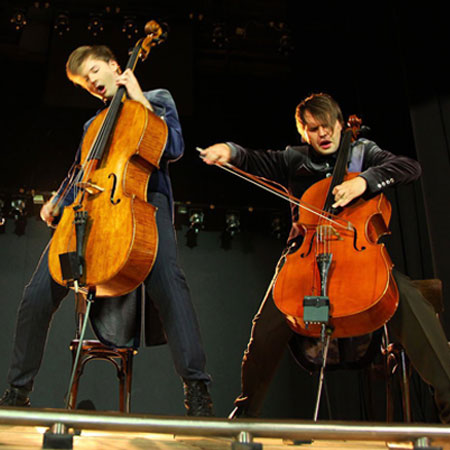 Cello Rock Duo
The duo provide a memorable, colourful and energetic show
Their music is modern, global and surpasses language barriers
They bridge the gap between classical music and the modern world
Their repertoire includes original compositions and immortal classics
Based in Latvia and available to perform at events worldwide
Instrumental Cello Rock Duo, bridge the gap between classical music and the modern world by mixing the sound of the classical sound of the cello with rock and hip hop music.
The two members, Valters and Antons created the group in 2011 and are highly skilled academic musicians and childhood friends.
Their music is modern and global, mostly instrumental, surpassing language barriers, with the musicians addressing the maximum possible number of listeners around the world through their creative work.
On stage, the duo provide a memorable, colourful and energetic show. Their repertoire includes not only their own compositions, but also arrangements of immortal classical compositions of the last 300 years, ranging from Bach and Beethoven to Abba and Led Zeppelin, and many more popular songs.
They have cooperated with many orchestras, with countless numbers of stars, among them: Terem Quartet, Maizie Williams (Boney M), and Sonora Vaice. With the success of a very wide concerts in many cities in America, and Russia, as well as in many countries around the world, among which, England, Finland, Sweden, Norway, Belgium, Niderande, Luxemburg, Greece, Poland, Ukraine, Turkey, Lithuania, Estonia and Kazakhstan.