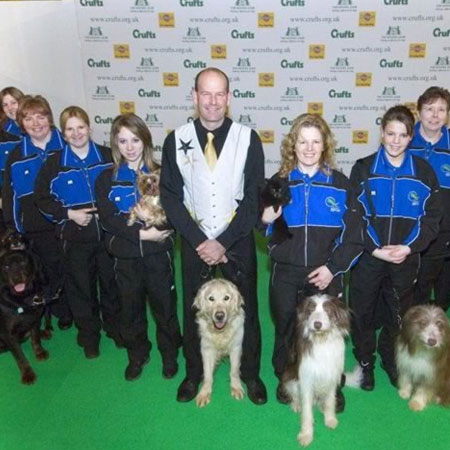 Dog Display Team
Shows inc. obedience, agility, stunts, tricks & comedy routines!
As seen on "ITV This Morning", "Dogs With Jobs" & "The Wogan Show"
Appeared at Crufts, Royal Cornwall Show, Aldershot Army Day & more
Perfect for family events, shows & corporate events
Based in Wales & available to perform at events worldwide
This professional dog display team have toured extensively around the UK performing at some of the country's leading outdoor events including the Royal Cornwall, Royal Bath and West and Royal Welsh Shows. The team has also appeared at Crufts and on numerous TV shows including "ITV This Morning", :The Wogan Show" and "Dogs With Jobs".
Many of the dogs working with the team have been rescued and all are family pets and live within the homes of their handlers! All 15 members of the team have a wealth of dog training knowledge and experience and aim to educate the public in the responsibilities of owning a dog and provide a varied and entertaining programme that will appeal to all audiences.
The show takes audiences on a journey through all aspects of dog training; from jumping through hoops, parallel bar walking and fly ball to comedy routines and tricks including a fantastic stunt which sees the team and their dogs demonstrate all their skills and courage negotiating a 80ft long ramp with four fire squares! The show culminates with an exciting relay race with two teams racing against the clock to be hailed the winners!
Complete with music, informative and amusing commentary and plenty of audience interaction, the show is an exciting demonstration perfect for family and out door events as well as corporate events - the team count Honda, Frontline and Manchester United amongst the companies that they have performed at events for.
In their shows the dogs' well being and care is always at the forefront of their priorities, with each dog handled with compassion, love and patience.