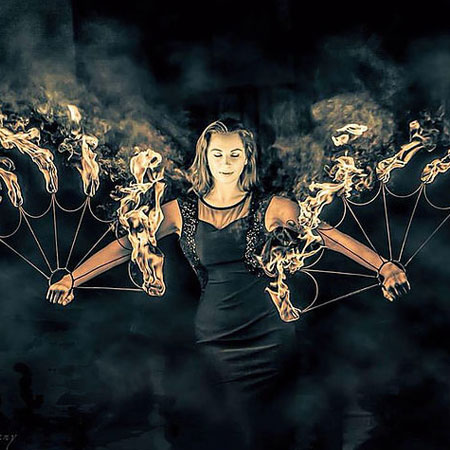 Fire Hula Hoop Performer
Raise the temperature of your event with this amazing hula hooping fire act
Providing a solo show, duo show or even a wow factor pirate theme act, our fire dancer provides seductive entertainment
Exciting circus entertainment for corporate functions, galas, festivals and more, our hoop artist has been booked for global events
Previous clients include Kenzo, Hermes and the World Bodypainting Festival
Hire Fire Hula Hoop Performer for events in France and internationally
Fire Hula Hoop Performer PHOTOS
Prepare to dazzle guests with a saucy fire show. Available to hire from international booking agency Scarlett Entertainment, this sizzling fire act offers the hottest circus entertainment around. Featuring a solo artist or duo of fire dancers, our smoking Fire Hula Hoop Performer has wowed audiences at high profile events across the globe. Based in France and able to travel worldwide, this fiery act can be booked as a full length stage show or ambient  entertainment to create a sultury atmosphere at your special event.  A talented hoop artist and fire performer, the exceptional star of this show is a versatile circus entertainer with many high profile past clients to her name. Guaranteed to raise the heat at your event, guests will be sweating after a dose of this scorching show.
Performing seemingly impossible fire hula hooping with skill and dexterity, this fire act knows exactly how to hold a crowd's attention. Providing the perfect circus entertainment for night events, corporate functions, medieval festivals and product launches, our skilful fire dancer is guaranteed to wow your crowd and stimulate their senses. Able to adapt her show to suit a variety of themes, our hoop artist's shows can range from a pirate knees up to a steamy burlesque routine. 
Technical Information
Solo Show - 3 minutes
Duo Show - 7 minutes
Pirate Fire Show - 12 minutes
Regularly working with high end clients such as Kenzo, Vogue and Hermès, not to mention events like The World BodyPainting Festival and Carnaval de Paris, our experienced fire performer understands exactly how to mesmerise an audience. Guaranteed to titillate guests with her fantastic fire dancing, expect flames to soar from our expert Fire Hula Hoop Performer. For more information about booking this act, get in touch with our team at Scarlett Entertainment France.
Les Galeries Lafayette - Fashion Sport - 2013
La Foire de Paris 2013
L'Eté Defacto
World BodyPainting Festival 2013 - Autriche
France 2 C'est au programme
D8 Le grand 8
Corporate Clients
Hermès - Inauguration de la Cité des Métiers - 2013
Carnaval de Paris 2013
Assureurs Prévention - On va bouger objectif 10 000 pas
Maskerade Festival 2013 - Pays-Bas
Television
France 2 Comment ça va bien
Doctissimo Fitness
KENZO - Vogue Fashion Night Out in Paris - 2012