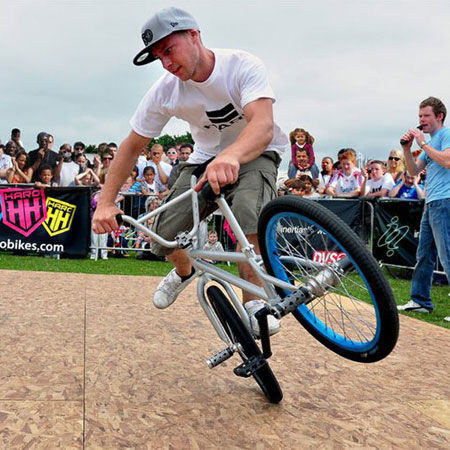 Flatland BMX Riders
Unique & stylish, it is breakdancing on a bike, sure to wow any crowd
Perform either difficult rolling positions or fast spinning techniques
Includes the UK's No.1 rider for two consecutive years
Previous clients inc Nike, Adidas, Nokia, Blackberry, Virgin, BMW, Pepsi
Based in the UK & available to perform at events worldwide
Flatland BMX Riders PHOTOS
Flatland BMX is a unique and stylish form of BMX riding.  Riders will perform either difficult rolling positions or fast spinning techniques sure to wow any crowd.  In a nutshell, Flatland BMX is breakdancing on a bike, all they need to create a memorable show is a flat surface and their riders absolutely never disappoint.
All of their freestyle riders are professional and currently compete at the top pro levels.  Keelan has held the UK No.1 Title for two consecutive years, making him the finest rider in the UK.  They also have access to some of the world's global international flatland riders and the best the UK has to offer. 
Each showteam carries their own sound system and equipment.  They are delighted to perform shows at various locations such as events, schools, nightclubs, theatres, museums etc., anywhere the client wishes!
Their riders can provide tutorial sessions for any age group, all they need to put on a show or a tutorial is a flat piece of land, once they have this, they can send the UK's best to provide an exhibition.
The Flatland BMX Riders have experience of working with the biggest household brands such as Nike, Adidas, Nokia, Blackberry, Virgin, BMW, Pepsi and Coca Cola to name but a few to the hundreds they have worked for.
Flatland BMX Riders available for:
Live Entertainment
Coaching/Tutorials
Advertising Campaigns
Commercial Roles
Choreography
Modelling
Interviews
TV
Magazines
And much much more...
Nokia
Virgin
Pepsi
And many more...
Nike
Blackberry
BMW
Coca Cola
Adidas