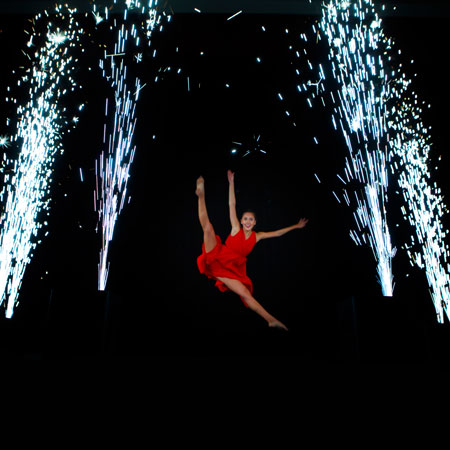 Indoor Firework Dance
Mesmerising, innovative spectacle with state of the art pyrotechnics
Safe, smokeless and non-combustible firework simulator that does not require a pyrotechnic license
Available with one or two dancers with fireworks programmed to music
Perfect entertainment to end your night with a bang
Based in Singapore and available for events worldwide
Indoor Firework Dance PHOTOS
Amaze your guests with a world first indoor firework dance that brings the magic of pyrotechnics into a highly versatile concept that creates real impact. The innovative, state of the art technology is a completely safe, smokeless and non-combustible firework simulator that produces cold sparks meaning that these indoor fireworks can be used anywhere.
The pyro dance is a highly entertaining, innovative visual spectacle with a choice of one or two dancers to carry out an elegant contemporary dance routine. With boundless energy and enthusiasm, the dancers weave in and out of of the indoor fireworks even passing their hands through the sprays of sparkles. This incredible contemporary dance is accompanied by up-beat music with the indoor fireworks programmed to the songs.
Our indoor firework dance can finally bring the glory and majesty of pyrotechnics to any location, inside or outside, and does not require a pyrotechnic license. The indoor firework simulator works in a similar way to a smoke machine and can run for period of five minutes at a time. The pyro dance is unique act that is easy to set up but guaranteed to bring the wow factor to any event.
The indoor firework dance is the perfect end-of-night show stopping performance that will round off any celebration or party with a superb climax. The pyro dance can also be used as a high impact visual entertainment option for award ceremonies, a side-stage act for live music performances, brand reveals and corporate events.
Find out more about the Fireworks we have available.
Contact us at Scarlett Entertainment if you're interested in booking this cutting edge contemporary dance with indoor fireworks.