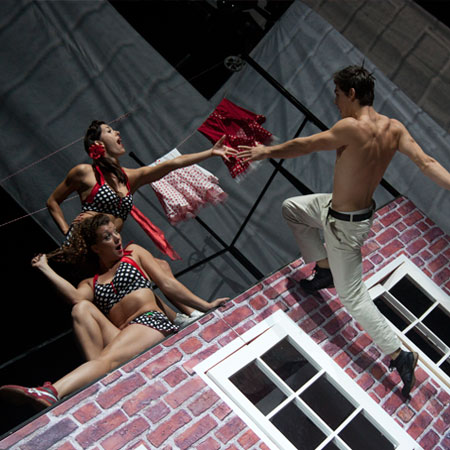 Trampoline Acrobatics
The troupe has an abundance of elegance, strength, grace & style
Have performed at the biggest circus events, incl. Cirque Du Soleil
Artists travel up and down trampoline walls at neck breaking speeds
A show that takes audiences to dizzying new heights!
Based in Zurich & available to perform at events worldwide
Trampoline Acrobatics PHOTOS
Add flair and exclusivity to your events with this trampoline acrobatic troupe. With an abundance of athletic elegance, strength, grace, style, and a dash of the erotic, trampoline acrobatics will spice up any event!
Founded by Canadian trampoline artist, Andréanne who has over 10 years of experience in circus and acrobatics, she is also considered one of the world's best in her field. Having worked for the biggest circus events including Cirque du soleil and Monte Carlo Circus Festival, she adds Burlesque and vintage to her performances.
Trampoline artists are among the best there are in the trampoline wall business. At neck breaking speeds the acrobats travel up and down huge trampoline walls and then jump back down from a height of almost 5 metres, and all with incredible synchronisation!
It is possible to choose between one side wall acts for smaller venues or double sidewall acts with a trampoline on either side.
Trampoline Acrobatics offer a range of shows, including Burlesque elements, "Pear Ladies" and "Lady in the Dark", both taking audiences to dizzying new heights!