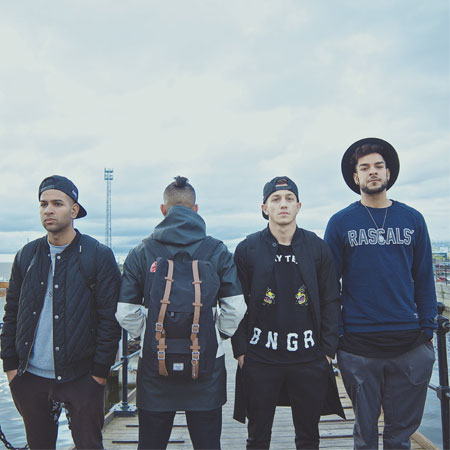 4 Piece Break Dancing Group
Renowned for their incredible choreographed routines & precision synchronisation
As seen on 'Norway's Got Talent' 2012 & 'My Dance Crew' 2015
Can create custom urban dance routines to suit a specific theme or event
Perfect for product launches, corporate events, exhibitions & more
Book our break dancing group for events in Norway & worldwide
4 Piece Break Dancing Group PHOTOS
Street dancers, urban dancers and break dancers are a great way to add excitement to any event. Our professional breakdance crew have already wowed audiences across Norway with their incredible dance routines on live TV and there is no doubt that our street dance crew will bring a unique edge to your event.
Since appearing on 'Norway's Got Talent' in 2012 our breakdance crew have soared to fame, performing at countless venues on their tour of the country and appearing on several national TV shows including 'My Dance Crew' with comedian Lisa Tønne. Having become break dancing icons in their home country, they have also gained international recognition showcasing their talent in South America, Indonesia, China, France, Poland, Sweden, Switzerland and Holland to name just a few countries.
Comprised of four experienced urban dancers, our street dance crew offer fast-paced, high-energy performances that demonstrate slick choreography and uncanny synchronisation. Renowned for their extraordinary skill and unrivalled talent as street dancers, their adrenaline-filled breakdance routines are electrifying to watch and will make your heart race!
Our urban dancers are a spectacular way to open events and launch products, a sure fire way to draw crowds at an exhibition, and entertain audiences at conferences or corporate events. Offering versatile, high-impact performances perfect for a whole range of events, you can book our hip hop dancers for events across Norway, Europe and the world.
Our street dance crew create custom dance routines to your soundtrack of choice. They can also wear specific colours or costumes to ensure that our breakdance crew perfectly reflect your event theme. Offering on-point performances that have seen them reach international fame, our break dancers are sure to be a huge hit at your event.
Able to tailor our act's entertainment packages to suit your specific needs and requirements, we are able to ensure that your event entertainment perfectly fits your event. If our street dance group has inspired you, get in contact with our expert entertainment coordinators to discuss how it could work at your event. With plenty of customisable options available, there is no limit to the possibilities available for your event.