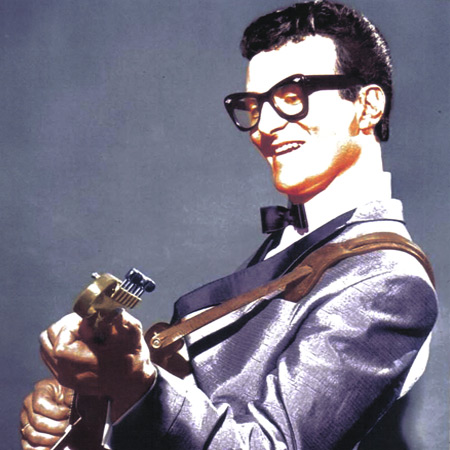 A Tribute To Buddy Holly
Successful Buddy Holly impersonator and Tribute artist
Audiences often remark on the similarities between himself and Buddy
Has acquired the tailor made Holly suits and horned rimmed glasses
Performed as a Buddy Holly impersonator on Stars in their Eyes
Based in the UK and available to perform at events worldwide
Tribute artist Marc has always had a passion and interest for music, starting in his high school days where he hated the uniformed curriculum of music lessons so much that he began experimenting with the more exciting Rock n Roll sounds.
Having experimented and performed with a variety of Rock n Roll bands he was led to a varied and successful Rock n Roll career, where he plays tribute to the legend that is Buddy Holly!
In 2003, Marc auditioned for a lead role in Buddy, which he got and after two weeks of rehearsals began performing. After playing more and more of Buddy Holly, his audiences remarked on the similarities between himself and Buddy. He acquired the tailor made Holly suits, horned rimmed glasses and of course the Stratocaster guitar and A Tribute to Buddy Holly was born!
Marc has since spent his working life and travelling to bring Buddy Holly's music and character to the people of Britain, Europe and the Middle East.
" I want to thank you for being Buddy and very much hope you enjoyed it. It was certainly a most exciting production to present and I was delighted and thrilled with everyone's participation. I can't tell you how pleased I was with your own performance, which was wildly beyond all my personal expectations in both your acting of the part and of course the voice and musical presentation. It was truly superb. Many thanks once again and with best wishes and I very much hope we will have the pleasure of working together again. "

Production company of Buddy