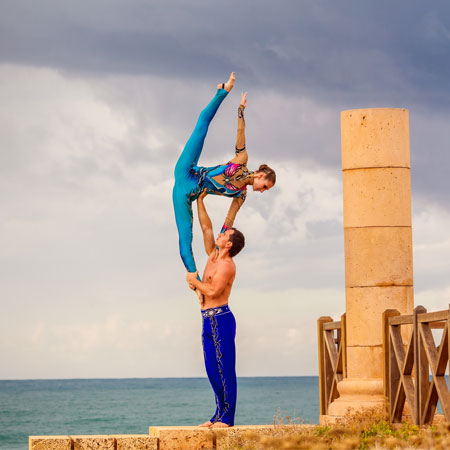 Acro Balance Show
A unique harmonic show of strength, romance and excitement
Combine rhythmic gymnastics with a variety of dance forms
Dazzling costumes and dramatic soundtracks
Perfect for exhibitions, product launches, corporate events and more
Based in Israel and available to perform at events worldwide
This stunning acrobatic duo from Israel regularly performs at private, public and corporate events around the world and has appeared on numerous well-known TV shows. Both coming from the world of dance - Katerina a rhythmic gymnast and Dmitry a professional dancer - they combine their expertise to create a harmonic show of strength, romance and excitement.
Katerina has wowed audiences at some of the world's most spectacular venues with her elegance and grace; you may recognise her from the gymnastic finals of the Beijing Olympics in 2008. Dmitry is a dance virtuous performing everything from ballet to folk. Their magical show set to a dramatic soundtrack and complete with dazzling costumes will capture the hearts of any audience and impress guests at your event.
This exceptional act will be a special addition to any event and is perfect for: corporate events, after dinner shows, gala events, black tie events, award ceremonies, private events, special occasions and much more.
To find out more about how to book this act for your event contact our team of Entertainment Specialists.