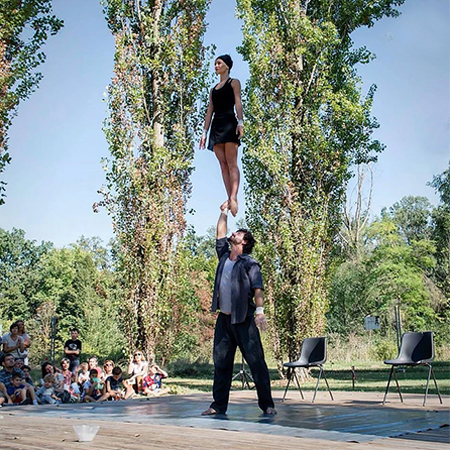 Acro Dance Duo Italy
Highly skilled female and male acro duo amazes crowds with their flawless technique and boundless creativity
Loved by both children and addults, acro dance routines can be adapted to different performance spaces
Acro duo has participated in numerous festivals and events in countries like Brazil, Switzerland or Germany
Ideal circus entertainment for galas, ceremonies, festivals, corporate events, street celebrations, etc.
This Arco Dance Duo is based in Italy and Argentina and is available for bookings worldwide
Acro Dance Duo Italy PHOTOS
Amaze crowds at your upcoming event or special celebration with the flawless technique and incredible talent of this Acro Dance Duo from Italy.
Passionate about circus entertainment, these acro balance performers joined forces to offer spectator shows that are overflowing with passion, partnership, flexibility and trust. The perfect mix of technique and creativity, our female and male acro duo's routines always leave viewers speechless!
Happy to adapt to different spaces, this acrobats' hand balancing act can be executed both indoors and outdoors. Loved by both little ones and adults, our female and male acro duo aims to transmit the magic of body contact and the importance of gestures, touch and other forms of body language.
Our female and male acro duo has travelled the world leaving audiences speechless with their mind-blowing routines. They have performed for audiences in countries like Colombia, Brazil, Switzerland, Austria, Germany, Spain and Italy, to name a few. The perfect circus entertainment for a variety of occasions, our acro balance performers' hand balancing act and other acro dance performances are popular for galas, ceremonies, theatres, corporate events, street celebrations, festivals, and many more!
Top Tip:
These circus artists also provide workshops for those interested in learning the basic parent porter techniques. These workshops also include different exercises and techniques to keep improving1
Scarlett Entertainment offers a wide range of circus entertainment options for events and occasions in Italy and all over the world.
If you would like to book circus entertainment for your event, then don't hesitate to get in touch with us today and make an enquiry. Our in-house team of Entertainment Experts will be more than happy to provide further details on this fantastic Acro Dance Duo from Italy and Argentina and assist you in the booking process.