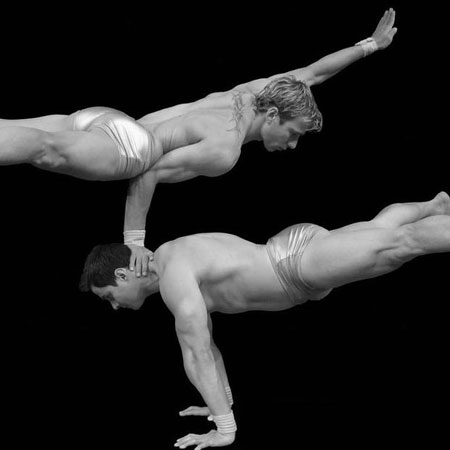 Acro Duo Bulgaria
An outstanding display of strength, trust and perfect unison, this acro duo with leave audiences mesmerised
Acro Duo Bulgaria showcase exceptional stunts and tricks featuring hand to hand acrobatics and intricate lifts and holds
Perfect for corporate events, private parties, cruise liners and branch launches
Can perform short ambient sets as well as stage showstoppers
Based in Bulgaria and available for worldwide bookings
Moving as one with unstoppable strength, balance and trust this exceptional duo of acrobats take partnership to the next level with outstanding balances that are stunning to behold and incredibly impressive. Perfect for wowing your audiences and creating memorable experiences acro duo Bulgaria are a delight to watch.
A fantastic entertainment option for corporate events, private functions, awards ceremonies and brand launches this dynamic duo create a brilliant atmosphere that is highly impressive and impossible to tear your eyes away from. Displaying hand to hand balance and advanced lifts, these performers truly have superhuman strength.
The ultimate entertainment choice for cruise liners, our outstanding acro duo are guaranteed to provide audiences from all over the world with new experiences and memories to last a lifetime as they exceed what the human body is capable of right before their eyes. 
Top Tip:
Our acrobats can also customise their costumes to complement your colour scheme and theme making for a striking addition to your event.
With years of experience perfecting their act this Bulgarian acro duo have mastered their performance to the highest standard making for a thrilling showcase that is packed with extreme displays of strength, trust and partner work. Available as a stage show to add a showstopper performance to your event as well as an ambient set that sparks the attention of everyone in the room.
To find more exceptional hand balancing and acro duo performers visit our Acrobatics and Hand Balance section.
To book our acro duo Bulgaria or for more information, contact our Entertainment Specialists today.