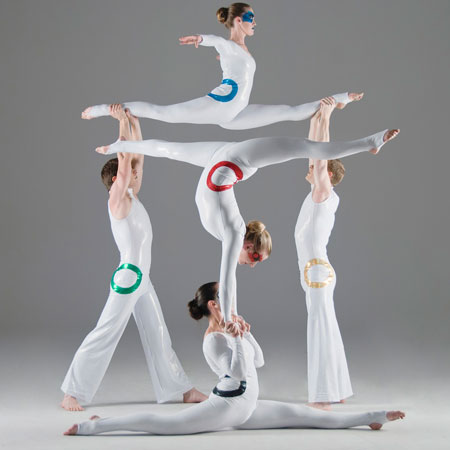 Acrobat Troupe
Celebrate in style with this superb high-energy gymnastic act
High-balances combine with exciting tumbles in the ultimate acrobatic show
Performed for the London 2012 Olympic Organisers Committee
Themed costumes include Black & white, Christmas, Fairytale, Halloween...
Based in the UK and available to perform at events worldwide
The ultimate team to wow your guests!
If you want maximum impact at your next event, hire these amazing acrobats for your next event!
The acrobats perform extreme tricks in this gymnastic extravaganza! Daring, high-balances combine with fast & exciting tumbles to display the ultimate acrobatic show for your event.
These ex-gymnasts and sports acrobats are top of their game and performed this routine for the Olympic Torch, Olympic sponsored & corporate events throughout the UK for London 2012, as well as for the Organisers Committee 2012 as their final farewell.
Book this highly specialized and experienced team now to add that wow factor to your event:
•    2 – 10 acrobats available
•    2 – 5 female acrobats available
•    Main-stage act: 5 minutes 20
•    Ambient sets: 20 minutes
Can be costumed to suit the following themes:
Black & white; Carnivale; Christmas; Circus; Fantasia; Fairytale; Glamour; Halloween; Heaven & Hell; Moulin Rouge; Sport; Urban Circus; Winter Wonderland.
Great for:
Award Ceremonies; Billboard Promotion; Corporate events; Fashion Shows; Gala Dinners; Large spectacles; Light Switch on; Outdoor events; Private Party; Product Launches; Publicity Stunts; Shopping Centre; Summer events; TV & Film; Wedding.
Celebrate in style with this superb high-energy gymnastic act!
Bangkok Motor Show Thailand
Langham Hotel Hong Kong
BP;Poland Turkey & England
Royal Wedding Westminster
Skyper Awards Portugal
Mercedes England
Macau Fishermans Wharf Macau
Royal Mail Alexandra Palace
Dubai World Cup Horse Race
T-mobile England
Bank of Scotland Jersey
MALTA
Honda England
Wrigley Celtic Manor
BBC 1 – National Lottery Awards Silks
ITV – Cabot Circus Advertisement Acrobatic duo & silks
Disney Channel – Childrens' Awards Royal Albert Hall Fire
Festivals
Womad Gran Canaria
Dubai Shopping Festival
Four Seasons Hotel Cyprus
BMW England
Thomas Cook Turkey
Swarovski London
Commonwealth Games Manchester
Dubai Shopping Festival Dubai
Diana Tribute Wembley Stadium
Honda England
National Theatre London
'Carmen' Royal Albert Hall – Raymond & Gubbay
Elle Magazine
Walkers Crisps England
Victoria Square Belfast
Remington England
The Peak Hong Kong
TV
Channel 4 Sweden – Nyhetsmorgon Acrobatics
ITV – Giffords Circus Promotion Trapeze
Qatar Eid Festival
Glastonbury England
Harbourside Festival
Raffles Singapore
" Perfect, absolutely perfect! "

Mr Bambos CharalambousManager of Four Seasons Hotel, Cyprus
" Amazing acrobatics ... Breathtaking ... Exceeded my expectations ... ! "

Jo Everett, Audi A1 Launch.
" Fantastic Charisma...great artists "

Amphitheatre of the Arts
" They were the talk of the evening! They made our event. "

Charlotte Watmore.  Hitatchi Capital Ltd
" They were fabulous & our guests are still talking about it! Thank them for making our night so special "

Sonya Yadin, Private Wedding at Park Lane Hotel
" They provided a great night out "

Vernon Kay