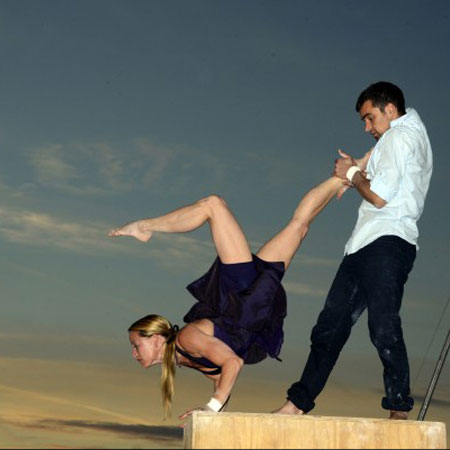 Acrobatic Block Dance
Graceful, powerful performances will WOW spectators
Can be performed with 2 to 4 acrobats on a range of block heights
Offer bespoke performances with live musicians
Perfect for ceremonies, corporate events, theatre shows & festivals
Based in Amsterdam & available to perform at events worldwide
Acrobatic Block Dance PHOTOS
This stunning group of acrobats offer theatrical, colourful and original performances in the style of the new circus. All experienced and professional acrobats their performances are incredible demonstrations of balance, strength and agility and will astound audiences.
In this act, they perform precisely choreographed acrobatic dance on and around large wooden blocks, creating an unusual visual spectacle that will fascinate and captive spectators. The show can be performed with any number of acrobats, as a spontaneous short show that will surprise and entertain guests, or a longer show accompanied by live music and percussion. They can offer any number of combinations and accompaniments to suit your specific event.
Visually stunning, their performances will make a lasting impression and ensure that your event is one to remember.