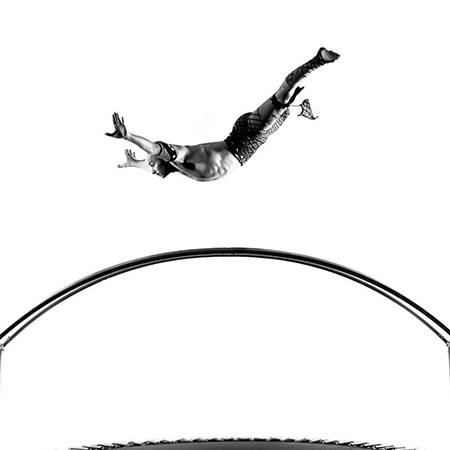 Acrobatic Circus Performer
A stunning acrobatic show performed by an award-winning acrobat with years of experience in the industry
A circus performance full of amazing acrobatic tricks with a cyr wheel and charged with emotion
Can customise show by adapting choreographies and costumes to specific music
Have performed for renowned organisations such as Cirque du Soleil and Cirque Roncalli
Book this Acrobatic Circus Performer for events in the USA and around the world
Acrobatic Circus Performer PHOTOS
Take your event to the next level with this extraordinary Acrobatic Circus Performer, an experienced acrobat that will deliver a jaw-dropping performance that will leave audiences speechless. His stunning acrobatic show is a magnificent display of strength, agility and grace. With an act that combines ground routines, mind-blowing cyr wheel tricks and a sensitive and emotional performance, this award-winning acrobat is guaranteed to captivate audiences worldwide.
Backed by years of experience as a professional high-level gymnast, this experienced circus artist has created a stunning acrobatic show in which he combines his technical knowledge and skills with boundless creativity. Only accompanied by a cry wheel on stage, our talented circus performer will deliver amazing and precise acrobatic tricks that will blow spectators away.
This award-winning acrobat always offers creative and unique shows to audiences. He can adapt his performance to your event's requirements, so whether you'd like him to create a choreography based on a specific song or music, he will be more than happy to do it as he's constantly challenging himself and searching new ways to express emotions with his body.
Our experienced circus artist's talent and creative ways have not gone unnoticed by some of the most renowned circus in the world. Both Cirque du Soleil and Circus Roncalli have trusted him in the past to be part of their shows, and these experiences have also allowed him to participate in some TV shows like 'Le Plus Grande Cabaret du Monde'.
Perfect to corporate entertainment, after dinner experiences and any event that requires an act that combines flawless technique with artistic expression, this stunning acrobatic show is the ideal circus entertainment option for it!
If you're interested in booking this act, get in touch with our wonderful team of entertainment specialists and make your enquiry about this phenomenal Acrobatic Circus Performer. Our coordinators will be more than happy to answer all the questions you may have.
Cirque du Soleil
Rewe
Swisslife
Wolkswagen
BASF
Heart Ibiza
Sports Trophy
US Aerial
Circus Roncalli