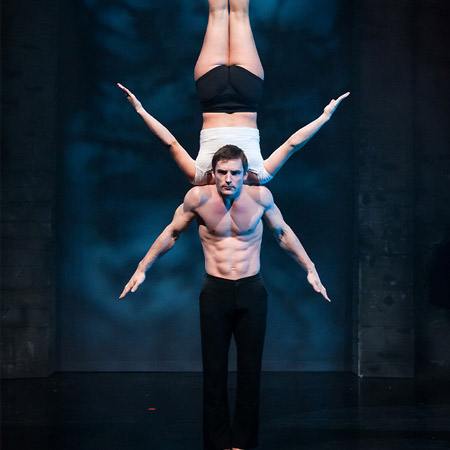 Acrobatic Dance Duo Poland
Talented aerial duo will provide your event with elegance and sophistication.
A unique aerial balance act that showcases our aerial duo's extreme passion for performance.
Skilled aerialists will captivate guests both young and old.
Marvellous aerial dance act ideal for parties, weddings, corporate events, themed occasions, and more.
Book acrobats available for events throughout Poland and worldwide.
Acrobatic Dance Duo Poland VIDEOS
Acrobatic Dance Duo Poland PHOTOS
Our stunning aerial duo are skilled and professional aerialists and have been captivating guests with their emotional and elegant aerial dance performance for years. A pair of talented acrobats who have been perfecting their in air balance act are looking to capture the attention of your guests with an exceptionally vibrant atmosphere and visually appealing aerial tricks that will stimulate the mind with wonderful music and merriment. Leaving guests with unforgettable memories, our daring aerial duo will perform a seductive aerial performance that will keep your guests talking for months.
Two renowned aerialists will present dynamic movements and excellent connections that will help our aerial duo engage guests with their powerful and moving balance act. Providing your event with passion and beauty, our stunning acrobats can create and transmit an alternative reality through their high energy and daunting performance that will become the centre piece of your special occasion. Having appeared on a variety of television shows, our skilled aerial dance team will bring a resounding wow factor to your upcoming gathering, ensuring your event is the talk of the town.
Offering a variety of different acrobatic acts alongside their aerial balance act, our aerialists can also offer hand to hand balance, aerial pole, juggling a mental cube, aerial hoop performances, and much more. A truly versatile set of performers, our aerial duo are always perfecting their performances, ensuring each appearance is fresh and just a little bit different each and every time. A wonderful and dedicated team of entertainers is what your guests will experience when you book our eccentric aerialists for your event.
If you're interested in hiring our exceptional and talented aerial duo for your upcoming special occasion or gathering, contact any of our entertainment experts who are standing by to help you with all of your booking needs.