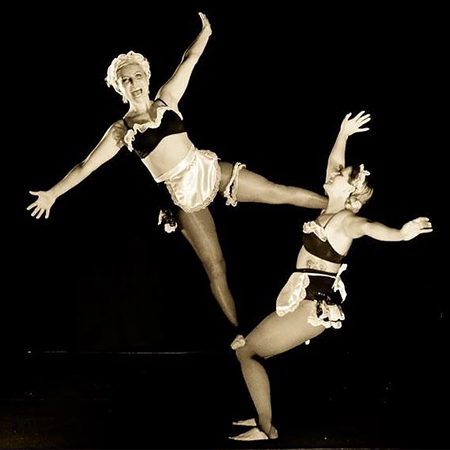 Acrobatic Duo Australia
Incredible circus act for your event performed by our professional acrobats.
Fantastic acrobatic act features fast paced routines that will captivate.
Sensational acrobatic duo will amaze your guests with an impressive performance.
Ideal acrobat performers for private parties, gala dinners, drink receptions, etc.
Book acrobats for events across Australia and worldwide.
Acrobatic Duo Australia PHOTOS
Our highly skilled acrobatic duo are bound to amaze and inspire your guests no matter their age, as they provide an exceptional acrobatic act. Professional acrobats, our experienced and talented acrobat performers are passionate entertainers who will demonstrate incredible feats of strength, flexibility, and elegance through a variety of simple and advanced routines that will surely turn heads and capture the attention of your audience with ease. A fantastic circus act that can work for small events or larger showcases, creating a fantastic atmospheric quality along the way.
Outstanding and sensational performers, our acrobats will engage guests with their unique and fast paced manoeuvres, showcasing their expressive and emotive nature, performing with a unique style and large amounts of sophistication. Creating enchanting experiences, our professional acrobatic duo are multi skilled entertainers, our acrobat performers have extensive experience at being both the base and the flyer throughout the act, making for unique opportunities. Delivering a sensational acrobatic act, your guests will be swooned by our dazzling performers.
Available as a full stage act, our sensational circus act can also be tweaked to feature our daring acrobatic duo as a pair of roving acrobats. Our wonderful acrobatic act can also be tailored to fit most themes and styles, creating a unique environment for your upcoming event or gathering that is comprised of a customised act created by our skilled acrobats that can include up to 3 acrobats. An amazing and sensational act that will provide your event with an epic wow factor, high quality steal of approval from your audience. The perfect act for private parties, gala dinners, drink receptions, corporate functions, and more.
If you are interested in booking our fast paced and masterfully crafted acrobatic act and daring acrobats for your upcoming special occasion, contact our helpful and sensational entertainment experts who are standing by to assist you with your booking needs.