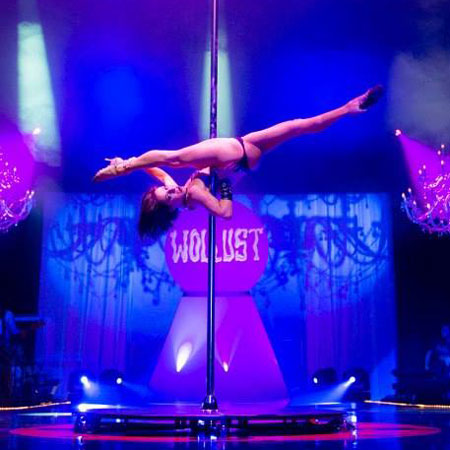 Acrobatic Pole Dancing Act
Dazzling acrobatic pole dancer will captivate audiences with her skilful and sensual routines
Stunning pole dancing act combines pole dancing, aerial acrobatics and hula hoop dancing into a vibrant and modern dance act
Elegant and scintillating female dancer provides perfect entertainment for corporate events, parties and cabaret shows
Incredible pole dancer has impressed audiences worldwide and earned rave reviews on Germany's popular talent show "The Super Talent"
Extraordinary hula hoop dancer available for performances across Europe
Book our magnificent acrobatic pole dancer for a stunning and sensual dance show at your event. This sensational pole dancer has amazed audiences all over the world with her breath taking routines full of dazzling acrobatics and lively, modern choreography. Guests will be blown away by the skilful and scintillating routines from our gifted and gorgeous female dancer as she displays all of her amazing skill, passion and dexterity. This dynamic and energetic pole dancing act features stunning routines that combine pole dancing, aerial gymnastics and hula hoop dancing into vibrant and modern routines filled with spectacle and wow-factor moments. Book this gorgeous and talented hula hoop dancer and treat your guests to an explosive performance they will never forget.
Our graceful pole dancer comes from a lauded family of performers and the minute she takes to the stage you will see that capturing the attention of an audience comes naturally to this born dancer. Her seductive routines combine fabulous pole dancing with stunning aerial acrobatics and hula hoop dancing. Her fresh and exciting pole dancing act is filled with fast paced and impressive acrobatics that showcase our female dancer's incredible athletic skill and he natural elegance.
This graceful and powerful hula hoop dancer recently appeared on Germany's popular TV talent show "The Supertalent", where she earned the admiration of international audiences and judges alike. Performances around the world have cemented our dancer's reputation as one of Europe's most electrifying performers. This beautiful and supremely talented acrobatic pole dancer is the perfect act for any cabaret or variety show, or for giving guests at any reception, club, dinner party or even a truly eye-catching spectacle. 
Scarlett Entertainment brings you a brilliant selection of talented and gorgeous pole dancers and dancers in any style to suit any event.
Contact our expert team to arrange booking one of our fantastic acts.