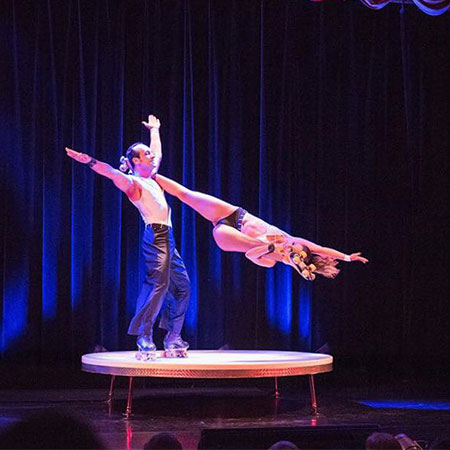 Acrobatic Roller Skaters
Extremely skilled roller skate duo performs incredible routines filled with leaps and spins
Happy to adapt music and costuming to fit your theme and adapt their act to bigger variety shows or productions
Perform group routines with up to three female artists and cause jaws to drop with impressive stunts
Perfect circus entertainment for parks, theatres, festivals, TV shows, galas, dinners, ceremonies, cruise ships, etc.
This Acrobatic Roller Skaters are based in Italy and available for worldwide bookings
Acrobatic Roller Skaters PHOTOS
Ensure guests at your upcoming event enjoy an evening of great entertainment by booking a performance that stands out and makes an impact! This is precisely what these Acrobatic Roller Skaters offers and they never disappoint!
An acrobatic circus act that causes jaws to drop, this performance is guaranteed to become the highlight of any celebrations! Able to fully customise their roller skating act to suit your needs, these circus artists can perform to music of your choice and adapt their costumes to fit your theme.
Performing on a tiny and circular stand, our roller skate duo's performance is an impressive display of balance and strength. This duo's on-stage chemistry and trust in the other make their routines a delight to watch.
Having entertained audiences worldwide with their incredible roller skating act, these talented acrobats and roller skaters have performed at Les plus grand Cabaret du Monde (French TV), Charming China (Chinese TV) and major sporting events such as the celebrations of the 2007 Champions League at San Siro (sky Italia), among other events.
The ideal circus entertainment for theme parks, theatres, festivals, TV shows, galas, dinners and ceremonies, this acrobatic circus act is also a popular choice for cruise ships. Happy to become part variety shows, these acrobatic roller skaters can also adapt their act to bigger productions.
Top Tip:
Extremely skilled, our roller skate duo can also offer group performances. As you can see in the pictures above, they can execute their routines with up to three female performers!
Scarlett Entertainment offers a wide range of circus entertainment for events and occasions in Italy and worldwide.
Book these Acrobatic Roller Skaters by contacting us today. Our dedicated team of Entertainment Experts will be more than happy to answer all the questions you may have about this roller skating act and assist you with your booking.