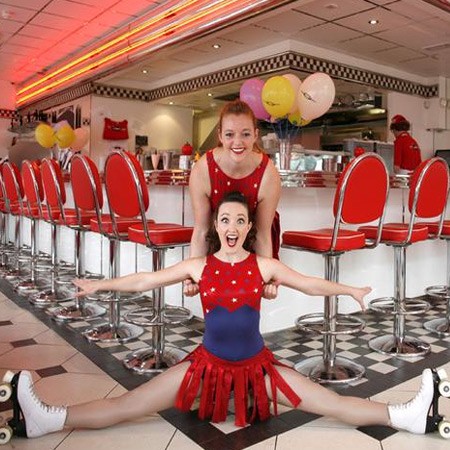 Acrobatic Roller Skating Act
Circus duo have created their own unique, death-defying acrobatic roller skating act, with pace, danger and good dose of glamour
Dancers on roller skates hang by their feet, spin by their necks, and skate circles around your audience
Multi-skilled circus duo can perform on aerial silks, aerial hoop, doubles trapeze and roller skates
Adaptable themed entertainment perfect for event themes such as winter wonderland, vintage circus, 1920s and more
Skating acrobats are based in the UK and available to perform at events worldwide
Acrobatic Roller Skating Act PHOTOS
This acrobatic roller skating act will captivate, excite and amaze as the skating acrobats hang by their feet, spin by their necks, and skate circles around your audience.
As seen on National TV, this multi-skilled skating acrobats duo captivate audiences all over the world with their multiple talents including aerial silks, aerial hoop, doubles trapeze and roller skating performances.
Unique Circus Duo Act
Our skating acrobats have worked together since meeting at circus school and their lives have never been the same. They created their own unique, death-defying acrobatic roller skating act, with pace, danger and good dose of glamour! 
One of the only all-female skating acrobats shows of its kind in the world, the flyer is spun around at speed for something completely unique and jaw-droppingly dramatic! This pair of incredible dancers on roller skates will take your breath away,  evoking childhood memories, whilst upping the danger level.
As well as their acrobatic roller skating act, this circus duo can also perform a variety of unique trapeze acts on several unusual trapezes. The dramatic 'three-high' trapeze, the popular 'twin-bar' trapeze, and the classic 'Single-bar' trapeze performances will have guests on the edge of their seats from start to finish. 
Tailorable Themed Entertainment
This circus duo's versatile shows are highly adaptable and can provide the perfect themed entertainment for many different event themes and colour schemes, some available themes include:
American diner 
Winter Wonderland
Vintage circus
White Party
1920s 
Hawaiian 
Halloween
Gold
1980s 
...and many more!
The circus duo were the first winners of The Emma Insley Aerial Creation Award, as well as winning The Stage's competition. They have since performed all over the world with their roller skating and doubles trapeze acts for clients such as 360 Mall Kuwait, SKY,  National Theatre as well as performing on stage with stars such as One Direction and The Saturdays
To find out more about how to book this high octane acrobatic roller skating act contact our team of Entertainment Specialists.
Best Ever Parties
Cabaret of Curiosities
Circus Of Light
Citrus Arts
Dickens World
GDA
Harbour Festival
ITV
Koko's
Lightning Ensemble
Olympic Torch Relay
Sky
The Big Bang Factory
Valtur Sardinia
Vinopolis
Warwick University
...and many more!
360 Mall Kuwait
CBBC
Carnesky Productions
Cirque Jules Verne
Cwtch Cabaret
Fusion festival
Glastonbury Festival
Haven
Istinye Park Istanbul
Latitude Festival
National Theatre
Sencity
Swing Thing
The Olympic Torch Relay
Variety by the Sea
Vivid Experience
Watch This Space
Alton Towers