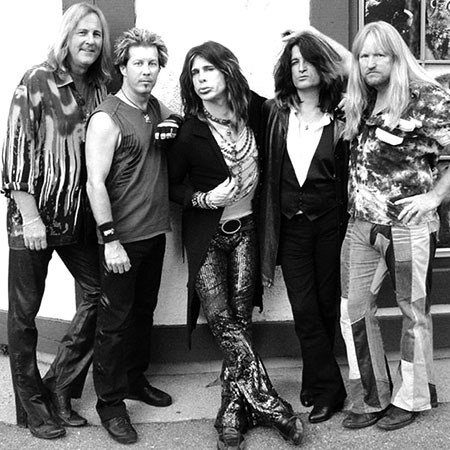 Aerosmith Tribute Band
Considered the best Aerosmith tribute in the world
Professional musicians with years of stage and studio experience
Perform all the classic hits from the band's legendary repertoire
Ideal for parties, themed events, festivals, corporate functions & more
Based in Los Angeles and available to perform at events worldwide
Aerosmith Tribute Band PHOTOS
Aerosmith are the best selling American rock band of all time, having sold more than 150 million records worldwide since appearing on the music scene in the 1970s with their characteristic blues-based hard rock sound. What could be better than bringing the legendary look and music of 'the Bad Boys from Boston' to your event with our fantastic tribute band, who walk, talk, act, perform and even look just like Aerosmith!
Performing all of their greatest hits, from classic songs such as "Walk This Way," "Sweet Emotion," and "Toys in The Attic," to more current hits like "Dude Looks Like A Lady," "Jaded" and "Don't Wanna Miss A Thing", this band will really have you believing you're watching America's greatest rock and roll band on stage!
Featuring an amazing Steven Tyler impersonator and a brilliant Joe Perry lookalike, this tribute band has a commanding stage presence and an electrifying performance style, with all band members really looking and sounding just like the Aerosmith members they portray. Certain to be a hit at your event, our Aerosmith tribute band will definitely bring the wow factor!
Amazing
Adams Apple
Big Ten Inch
Chip Away At the Stone
Come Together
Cryin
Crazy
Dude Looks Like A Lady
Don't Wanna Miss a Thing
Dream On
Draw the Line
Eat the Rich
Fallin In Love - Hard on The Knees
Janie's Got A Gun
Jaded
Angel
Lord of the Thighs
Love in an Elevator
Last Child
Mama Kin
No More No More
Pink
Ragdoll
Same Old Song and Dance
Seasons Of Whither
Sick As A Dog
Sweet Emotion
Train Kept A Rollin
Toys in The Attic
Walk This Way
Walkin The Dog
What It Takes
Livin on The Edge