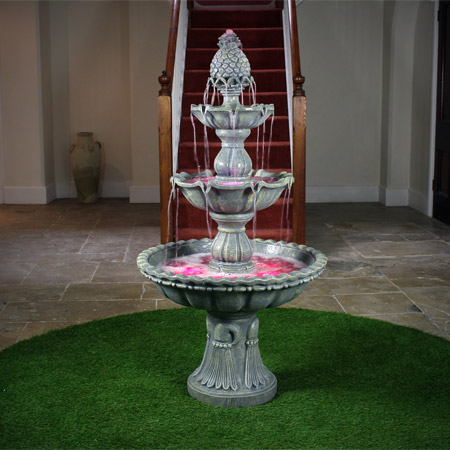 Alcoholic Drinks Fountain
Serve your drinks in style with this elegant and enticing cocktail fountain
This incredible alcohol fountain will give your event an endless supply of delicious cocktails or any drink of your choice
Take the hassle out of drinks serving- this fountain needs only an hour to set up and can work anywhere with a power supply
Fun and innovative drinks entertainment has been utilised at major events for BMW, Bacardi, Google and many more
Exquisite drinks fountain available for weddings, events and parties all over Europe
Get the party flowing with this unique and tantalising drinks fountain. Serve your guests their refreshment in style from this fantastic cocktail fountain and create a classy and exciting atmosphere at your event. This elegant alcohol fountain will look gorgeous in any event and guests will love getting their drinks from its endlessly flowing supply. This unique and stylish drinks entertainment can be set up anywhere and filled with any cocktail or drink you could possibly desire, so sit back and relax and let this incredible fountain supply all your alcoholic needs.
This sumptuous cocktail fountain is the perfect attraction for any event where you want to keep the drinks flowing and the party lively and fun. Set up our drinks fountain next to the buffet at your wedding or corporate event and give your guests an endless supply of fruity mojitos, classy martinis or cool daiquiris. Or plug this beautiful fountain in outside at a fancy garden party and enjoy chilled pina coladas under the evening sun. This fun and unique drinks entertainment only needs a power supply and can be up and running in 60 minutes, so you really can take the party anywhere.
Our staff will set up and re-fill the alcohol fountain for you so you have nothing to worry about and can enjoy a hassle free evening of good drinks and good times. This acclaimed drinks entertainment has been put to good use quenching the thirst of partygoers at major events for Bacardi, BMW, Google and many more. So book this exquisite cocktail fountain for your wedding, party or event and let the fun times never end!
Scarlett Entertainment offers you a huge selection of food and drink entertainment to keep your guests refreshed in style.
Contact our team to book one of our acts or services for your event.
BMW
Coca Cola
Google
EE
Audi
Aardman
Disney
Spotify
Bacardi