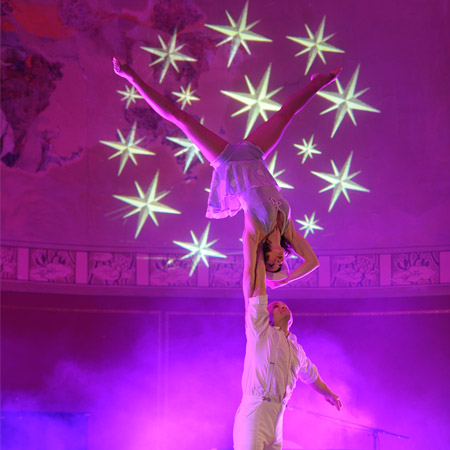 Alluring Acrobatic Duo
A sensational and intimate acrobatic show that will leave the audience in awe.
A one of a kind acrobat dancing performance that will have your jaw on the floor.
Acrobats perform with passion and energy as acrobatic dancers.
Hire our acrobat performers for corporate events, theatre performances, and more.
Book acrobats to perform at events in Berlin and worldwide.
Alluring Acrobatic Duo PHOTOS
Acrobat performers put on an unforgettable acrobatic show.  Acrobatic dancers perform as an acrobats duo to create an intimate and emotive acrobatic stage show. Acrobatic dancing duo is based in Berlin and available to perform at events worldwide. 
Performing a dazzling mixture of juggling, acrobatics, and just the right amount of dance, our alluring acrobatic duo are the perfect act for events that want to put a spotlight on strength, power, and of course teamwork.
Scarlett Entertainment's amazing acrobatic balance act combines a fine line of flashy juggling and angelic agility to showcase their impressive balancing moves that will leave your audience's jaw on the floor. Showcasing striking precision control and phenomenal choreography all while providing an environment of wonder that will explore the depths of ones mind as their eyes become stuck on our acrobatic dancers. A couple not only on the stage, the crowd will experience the true spark of love that you only see in the movies as our acrobat performers move through the dim-lit light across the stage almost as of becoming one as they come together to bring a one of a kind balancing act to the masses.
Our acrobatic performers have worked hard at their high energy balancing acts and are school trained in performing arts to guarantee an interesting and captivating show. This worldwide acrobatic show will showcase our performers at their best as they've made it their on stage goal to always bring their best and are always experimenting with new and challenging moves that will rival even the very best of the acrobatic world. Our acrobats strive on accuracy and perfection for their delicate and technically demanding acrobatic shows to show the world the trust they have for each other. 
For more information on how you can book our alluring acrobatic duo for your next event you'll want to make sure to contact one of the many Scarlett Entertainment team members that are more than happy to help you make your next even a memorable one that will have your guests talking.