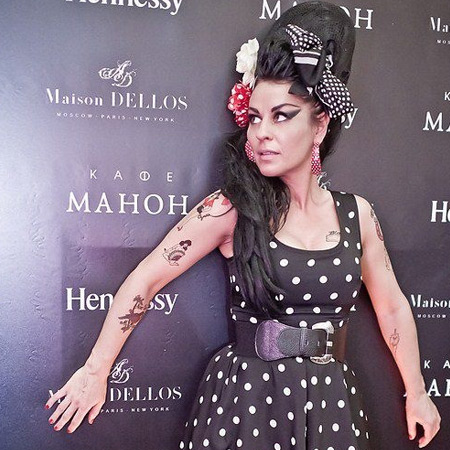 Amy Winehouse Tribute
An experienced and live tribute to the fantastic Amy Winehouse
Has performed to over 2 million people in 16 different countries
Currently works and performs with famous guitarist Robin Banerjee
Vibrant set list including all the Amy Winehouse classics
Based in Lancashire and available to perform at events worldwide
Amy Winehouse Tribute PHOTOS
Amy Winehouse Tribute, Caroline has been doing an Amy Winehouse show since 2007. She is based in the UK but travels and performs around the globe, working in Holland, Germany, Switzerland, Spain, Dubai and has very recently performed 6 dates in Moscow over the last 3 months.
She currently works on shows with Amy Winehouse's guitarist Robin Banerjee and has an uncanny resemblance to the late singer. Caroline's is a great entertainer with a huge stage presence and stunning voice, venturing out into the audience pinching their drinks and completely captivating the room in true Amy style!
In addition, Caroline has also worked with the Kaiserchiefs and Simple minds on European tour dates last summer and has in the past done tribfest and other various festivals, performing to over 2 million people in 16 different countries.
Caroline also incorporates a more high energy second set routine into her tribute shows, with songs by Lady Gaga, Madonna, Rhianna and Emily Sandé to name but a few.
As lead singer of the band, Caroline is about to embark on a UK tour at the end of this month. She will be doing 8 sell out shows this Autumn including the famous 100 club in London, a venue played by The Rolling Stones, Oasis, The Clash, The Pistols and recently by Paul McCartney and Paul Weller!