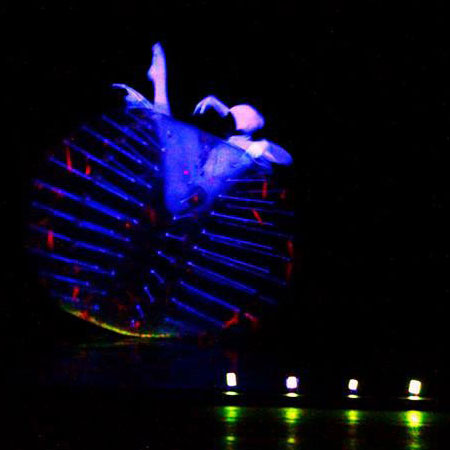 Anemone
Dreamlike performance that takes audiences into a magical world
High visual impact choreography representing strength and beauty
Very elegant and highly original, unique and compelling performance
Expressive dance combined with technology, colour and sound
Based in Rome and available to perform at events worldwide
The company, directed by American choreographer and designer Anthony, is a combination of physical theatre, dance, video, and technological innovation and invention. In addition to successful theatrical touring at the highest level, both nationally and internationally, the company also offers highly impactful and creative performances, with a focus on brand-enhancement through live special effects.
With over 25 years of professional theatrical experience, the team produces highly original and unique performances using luminescent screens, giant inflatable acrobatic structures, shadow work, and fluorescent blacklight effects to create and inspire. If you are looking for something different to impress your guests, you are looking for this!
Individual scenes from Anemone lead the audience into a technological world, in full agreement with what is the harmony of the human body. A dive among the future and the past, between new and old, a present that processes what has been and what is outlined as his "ideal future". A dreamy atmosphere in which is revisited the concept of truth and astonishment in perceiving the existence of other ways of seeing.
As usual, choreographer Anthony has not searched a dramatic course, secure of the idea that art and creativity can be a wonderful path of research that does not always need a real goal. The only purpose is the pleasure to walk another journey with the intent to transmit a contagious positivity that can approach any audience to dance, with intellectual honesty and charm of the body language. Always in search of an expressive and eclectic freedom, combining the plurality of research related to technology, dance, sound and colour, "Anemone" assures:
Imagination and Creativity in an Explosion of Pure Energy
" "Like a dream , then a few dark before the shining path that s ' lights . It ' a " big control panel " and , with it, the possibility that the bodies to dictate the intensity vibrant than you will see on stage . L' evolution Dance Theatre, from the beginning has taken this imaginative figure : dance like stupor , evolution bold , athletic , artistic . dive into this dreamlike atmosphere to make sure that the perception you leave it to the imagination as well as in a fair chase of truth and fantasy." "

Repubblica di Bari
" "An exciting ride, devoid of narrative, devoted to the more arcane fantasy, quilt gradually by the same dancers silhouettes with outline lighting effects ranging from fluorescent lamp wood. It starts with pink buds that open, circling, to manifest themselves in all their beauty, and then continue with the solo into a cumbersome luminescent ball as opposed to the force of gravity. And yet the impression the world in rows, almost behind an absurd prison, the dance of the shadows in front of and behind a white cloth, always chasing the mystery of a show night, the moon ... a blacklight theatre where there are times when the visionary gives way to the skit or pure athleticism, as in almost all the second time when the eight - dancers gymnasts perform in unpredictable trends on a huge inflatable dark descent." "

Sipario
" "Pure language, or better mix of languages and kinetic energies that express themselves through animated and darting flashes of light in the first half and by moving bodies on huge inflatable materassoni in the second : the extraordinary and irrepressible dynamism that seems almost to derive the energy absorbed in the provocative and fascinating darkness of the first parte.Un ' undoubted talent and outstanding professionalism result of serious workouts are the foundation of this show punctuated by an electrifying soundtrack with music functionality to individual pictures, joyous stimulus to the movement so that the viewer it is involved receiving sensations of lightness and levity , positive impulses that loosen the heaviness of situations and circumstances of a newspaper often burdensome." "

Teatrionline