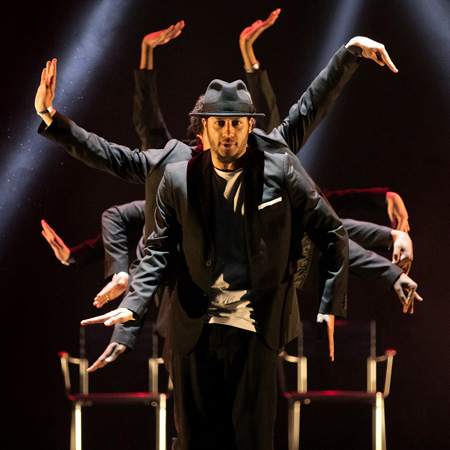 Animated Street Dance Crew
Custom dance shows featuring an elite collective of the UK's very best popping and animation dancers
A six-strong team of unique street dancers who specialise in different popping dance in styles such as waving, tutting, robotic and boogaloo
With the popularity of electronic music, the Animated Street Dance Crew was created to showcase the freshest futuristic choreography
The street dance collective have performed alongside, George Clinton, as well as at the Inaugural Baku European Games and the Olivier Awards
The Animated Street Dance Crew are based in the UK and available for worldwide bookings
Animated Street Dance Crew VIDEOS
Animated Street Dance Crew PHOTOS
The Animated Street Dance Crew is a fresh new street dance collective that was conceived out of a desire to showcase the freshest futuristic choreography. Featuring an elite collective of the UK's very best popping and animation dancers, this group perform custom dance shows that are full of energy and mesmerising to watch.  
Inspired by the popularity of dubstep and electronic music, the Animated Street Dance Crew have choreographed incredible routines that feature illusionistic movements and intricate musicality. This six-strong team of unique street dancers all specialise in different aspects of popping dance in styles such as waving, tutting, robotic and boogaloo. 
Custom Dance Shows
This incredible and highly versatile street dance collective offer spontaneous shows full of energy and excitement and are able to cater to your specific event requirements, they can be booked in a number of lineups and to fit with many themes. Each move is carried out with incredible technique and precision, it is easy to appreciate the high level of skill and technical ability within the group when you watch their captivating performances. 
The street dance collective have the ability to tailor their choreography and costumes to suit a particular theme and they can create custom dance shows from scratch, based around a unique concept or brand message; the perfect corporate entertainment for companies looking to launch a product or portray a particular message. 
Tailorable Corporate Entertainment 
The Animated Street Dance Crew are regularly booked for product launches, corporate ceremonies, TV shows, publicity stunts and more. They are the perfect corporate entertainment option for clients looking for custom dance shows that can be tailored to their brand, 
This fresh new street dance collective have already been making waves in the dance world, they have performed alongside George Clinton, as well as performances at the inaugural Baku European Games Opening Ceremony and the Olivier Awards. 
The Animated Street Dance Crew are based in London and available for worldwide bookings.
To find out more, contact our team of entertainment specialists who will be happy to share their expert knowledge to ensure your event is remembered for all of the right reasons!