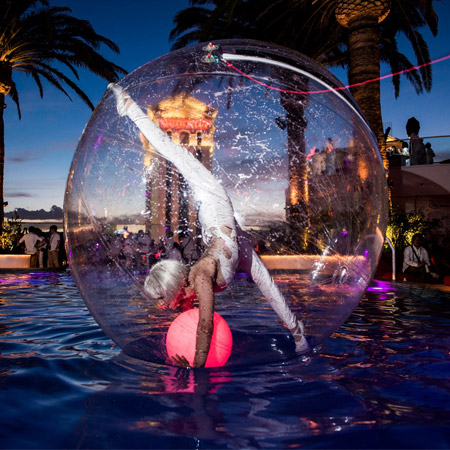 Aqua Sphere USA
Engaging sphere act that'll surely become the highlight of your event.
Guests will love our beautifully crafted and vibrant aqua sphere.
Sea based water sphere performers bring an exciting water based act to your event.
Perfect ball act for parties, festivals, themed events, and a lot more.
Book water act available for events across the United States.
Our fantastic and visually appealing aqua sphere will ascend from the pool or body of water centred at your event to capture the attention of your guests at your upcoming special occasion with a fantastic water act and mini light show. Our fabulous water sphere performers will add a sense of elegance and charm to your event or social gathering, entertaining your guests with sophisticated water tricks, creating a fun filled atmosphere built on water and performance experiences. A professional sphere act brings our water ball act to life as the performance enchants with visual elements, providing incredible water themed entertainment that your guests will love upon first sight.  
Offering a fair amount of glitz and glamour, our sensational sphere act comes prepared with a beautifully crafted flotation sphere, luminescent ball, and beautiful water sphere performer that will captivate with her wonderfully sensational light show. Donning an assortment of different costumes, our water act will quickly become the highlight of your event, and is bound to bring along a raving wow factor element that will transform your event into a must attend affair. Featuring a dazzling ball act, our sphere act is professional and boasts a carefree atmosphere that will help  your guests relax and experience our marvellous aqua sphere.  
Our fantastic water sphere performers are available for booking as a solo performance that will provide your event with a wide eyed element. Our beautiful water themed entertainment experience is fun and sensational, adding visual interest and unique talking points to your special event or gathering, making your event an unforgettable engagement. The perfect water themed entertainment experience for private parties, festivals, family days, themed occasions, gala dinners, and more.  
Contact any of our outstanding Scarlett Entertainment event experts if you are interested in booking our marvellous sphere act for your upcoming special event, and we will be more than happy to assist you.